A to B magazine started life as The Folder, the newsletter of the Folding Society in August 1993.
Specialising in news and reviews of folding and separable bikes, the magazine went from strength to strength and is run today – as it has always been – by the Henshaw family.
In August 1997, with 1,200 subscribers worldwide, David Henshaw decided to float the magazine on its own. The new magazine had a new title 'A to B' and a new brief – to explore new ways of traveling from point A to point B.
Naturally, as the most efficient transport integrator, the folding bicycle continues to feature in the magazine, but we also cover electric cars, electric bikes, green energy, bike trailers and public transport.
Around 1,500 magazines are sold by subscription every three months, plus a large but indefinable number of digital issues by all sorts of means, giving an estimated readership of 6,000 worldwide. Subscribers include public utilities, train operating companies and bike manufacturers and distributors.
---
Production of a small magazine would be impossible without a dedicated team. This is ours:
David Henshaw
WRITER & EDITOR
Age
Now around 56, but increasingly vague
Status
Writes threequarters of the total of 20,000 words per issue and edits and proof-reads the rest. Responsible for producing all photographs and maps unless otherwise stated, and is one half of the magazine packing and dispatch team.
Specialist Subjects
Has authored and co-authored several books on railways and cars, but has specialised in folding bikes since 1993, and electric bikes since 1999. His book on the Brompton, and the jointly-authored Electric Bikes were published in 2010, Brompton being reprinted twice since. The 1993 book on the 'Beeching' railway cuts of the 1960s, The Great Railway Conspiracy, was revised and reprinted in April 2013.
Background
Born in the New Forest, brought up in Weymouth, Dorset, and educated at Weymouth Grammar School. Went on to under-perform at a number of jobs from Miniature Railway Operator to London Van Courier, before discovering the world of alternative transport. Joint editor of 'The Folder' magazine from 1993, before staging a non-violent coup, relaunching the magazine as 'A to B' in 1997. In 2006 David launched a second magazine 'Miniature Railway'. This does more or less what you'd expect it do to – 'A to B' on rails, but without the politics.
Transport
Once regarded as an enthusiast for motor cars, but with more diverse enthusiasms these days. Eco-cars, electric bikes, rail in all shapes and forms, micro-scooters, if it's got wheels we're interested. Or not, because we have a Pelican Kayak and a Gull dinghy, in need of a bit of work. Transport locally is electric bike or Brompton. Longer solo trips and holidays are generally by train. Having said that, David is taking a definite interest in cars again, testing several electric cars for A to B. Who knows where this will lead?
Other Work/Interests
Some journalism for other magazines, plus cycle map surveying for Cycle-City Guides (including Mayor Ken's Greater London contract – quite proud of that). Formerly on the National Executive of the Railway Development Society before the railway lobby imploded, which made things rather less interesting. Has backed all the main political parties at various times over the years, but tends now to gnash teeth at politicians of all shades. Primary interest is annoying the Department for Transport and working towards a saner transport policy, with or without politicians. Actually, any kind of policy would do.
---
Jane Henshaw
ADMINISTRATION
Age
Over 30!
Status
Does everything else, from advising on content, to banking cheques, and helping to pack and dispatch magazines.
Specialist Subjects
An experienced cyclist and cycling-model, with an ability to make almost any machine look good, which is more difficult than it sounds. Also helps to guide the general direction and shape of A to B.
Background
Born in Weymouth, Dorset, and educated ('poorly', according to Jane) at Broadwey School. A children's nanny and house-sitter before discovering the Brompton and other 'alternative' transport.
Transport
Enthusiastic advocate of car-free living, and experienced train-user and cyclist. Rides a Gazelle Something-or-other on a daily basis.
Other Work/Interests
Arts and crafts, mainly involving fabrics. Has produced a number of stylish Brompton pannier bags and rain covers over the years. Currently producing children's costumes, large and small, art installations, and so forth.
---
Alexander Henshaw
TESTER
Age 18
Status Essential member of personnel, providing feed-back on all wheeled machines.
Specialist Subjects Anything with wheels, with no clear preference, which makes sense in these days of rapid transport evolution. Alexander studied the church organ and percussion at the Wells Cathedral School for five years and is now at the Birmingham Conservatoire.
Has played anything and everything with drum kit with local bands and orchestras to jazz piano. Also showing much promise in film and editing.
Transport Unusually, travelled to the hospital by bicycle and train as a fetus, and came back by train and car as a very small baby. Graduated from North Barrow toddler group to four-mornings-a-week at Galhampton play school, Somerset in late 2002.
Alexander was the only child to arrive by bike trailer at Galhampton, or possibly anywhere else in South Somerset. Graduated to Castle Cary Primary School in September 2003, travelling by Brompton trailer bike, bike trailer, Puky 18-3B and 'junior' Brompton.
---
TESTER
Age 9
Status Orlando enjoys testing small bicycles.
Specialist Subjects Piano, performance cars, performance cars, modified performance cars and piano. Started at Manor Park Junior School, and moved on to Sunninghill Prep School in early 2015.
Transport Has been cycling unaided for some years.
---
Peter Henshaw
PROOF READER

Age Must be well over 50
Status Essential proof-reading abilities as David claims to be dyslexic. Also writes occasional A to B articles, makes judgments on test bikes and gives advice in specialist areas.
Specialist Subject Motorcycles, scooters, folding bicycles, tractors, trains and cars, in order of expertise.
Background Born and brought up in Weymouth, Dorset, and educated at Weymouth Grammar School, then Oxford Poly and Warwick University. Took things easy for a bit, then sub-editor at Haynes Manuals (yes, really), editor at Diesel Car and Motorcycle Sport magazines, before turning freelance.
Transport Peter and partner Anna don't own a car out of choice, but would like everyone to know that living without a car is not at all easy. You have to choose between train, bus, an Enfield Robin diesel motorbike, Suzuki Burgman scooter, a tandem, two electric bikes, a couple of Bromptons, a Birdy, Bike Friday and assorted tourers. They reassure us, it's no picnic.
Other Work/Interests Peter says he 'scrapes a living' writing about motorbikes, scooters, bicycles and tractors – even cars, sometimes. Also offers a sub-editing/rewriting/proof-reading service for any words on any subject.
Useful Links E-mail
---
Gordon Powell
TESTER
Age Early 80s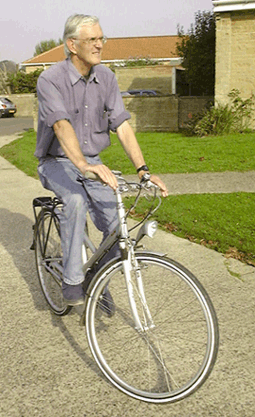 Status Jane's father, and an essential member of the team, testing bicycles, packing magazines, and standing in where photographs of a distinguished-looking tall, older gentleman are required.
Specialist Subjects Microsoft computers (we're 100% Mac at A to B), motorcycles (particularly Vincents) and bicycles. Said to be able to master anything on two wheels.
Background Born and raised in Weymouth, Dorset. Educated at Weymouth Grammar School, worked at Ministry of Defence, Portland.
Transport Longer trips by car or train, and Brompton for local journeys.
Other Work/Interests Gordon was formerly Machine Registrar with the Vincent Owner's Club, but now keeps busy enjoying himself.