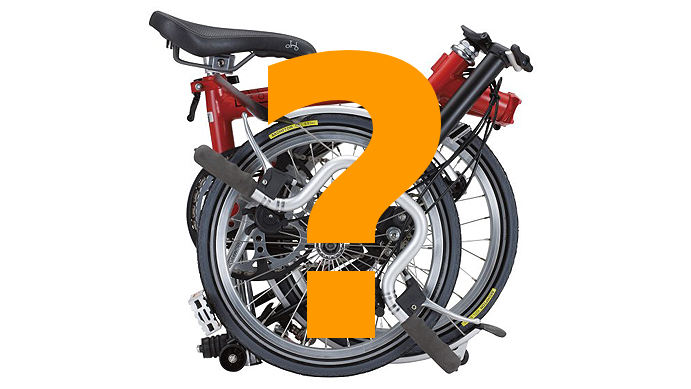 From our magazine reviews we've seen folding bikes come a long way since the early days and you can now expect a bike that has virtually the same performance characteristics as a full-sized bike. From folding mountain bikes to super-compact bikes, there's practically a folding bike to fit every need.
Advantages of Owning a Folding Bike
Folding bikes used to be heavy, crude, hard to ride, slow to fold, and once in a while they collapsed in a heap. But in the early '90s that all changed as rail operators and airlines began to tighten restrictions on conventional bike carriage. Fortunately, bikes that could be treated as hand luggage continued to travel free, and so the concept of a super-compact foldable bike caught on.
Today there are more than 150 folding bikes, and thanks to developments in small tyre technology and frame materials, the weight, ride quality and performance of the best is similar to that of their rigid cousins. Foldable bikes offer five primary advantages over conventional machines:
Free and unrestricted carriage on public transport
Relatively thief proof
Space-saving at home and elsewhere
urban multi-modal travel (such as rail/folding bike) is usually cheaper than using a car
High resale value
Not all foldable bikes fit in a suitcase, or fold in seconds, but they can be made significantly smaller when you're not in the saddle. And they generally travel free and without booking restrictions on rail, bus, underground, ferry or air services. It's that freedom to travel anywhere with your bike that gives folding bikes a magic quality. A folding bike can open up entirely new ways of travelling.
Choosing a Folding Bike
The more you pay, the lighter the machine. Expect to pay £500 or less for a 14kg clunker, £450 for a mid-range 12kg machine, or £1,000+ for something close to the exotic 10kg mark. That might sound expensive, but folding bikes keep their value. A second-hand Brompton, Birdy or Bike Friday will cost almost as much as a new machine, so it's generally better to buy new if you can afford it.
Folded size is important too. If you are just carrying a couple of bikes into the country at the weekend by car or train, almost anything will fit the bill. But if you expect to commute by air, rail, bus, or metro, you'll need a really compact machine that folds quickly. And to keep ahead of bike thieves it needs to be light, compact and quick to fold, or you'll soon give up and put it back in the garage.
Small wheels usually give lighter steering and a harder ride, but forget all the stories about wobbly handling, hard work and unusably low gears. Folding bikes tend to be more manoeuverable than traditional bikes; they're lighter; and most offer a low step-thru frame. They also tend to come in one size suitable for all the family, with a few quick adjustments.
Folding Bikes with Full-sized Wheels
If you really can't live with small wheels, there are now a few folding bikes with conventional wheels, mainly from Dahon and Montague. These 'full size' folding bikes start at about £200. Other good full-size bikes include the Montague, and the Redlof range. Not currently available in the UK, the Redlof is widely distributed in the USA as the CariBike.
If you insist on a 'conventional' machine, why not make your own bike separable? It's not as difficult (or as dangerous) as it sounds. US engineering company S&S Machine produces a range of frame couplings that are claimed to be stronger than the original tubes.
Grand Tourer Folding Bikes: 20-inch wheels and above
The real 'compact' folding bikes have wheels measuring 20-inches or less in diameter. As a general rule, bikes with 20-inch wheels perform well, but fold slowly, and produce a large (if lightweight) package. The best-known 20-inch bike is the Bike Friday, made by Green Gear in Oregon, USA. The company build custom-made MTBs, tourers, racers, triathlon machines and a new recumbent, with prices starting in the region of £1,000 or US$1,000..
There are much cheaper 20-inch machines, such as the Raleigh Boardwalk. It's heavier than the Bike Friday and it doesn't fold or ride with the same finesse, but it costs only £270, which gives some compensation.
It's also worth mentioning the Moulton APB range. These machines aren't really foldable bikes (they actually unbolt into two halves), but they will fit into a car boot, and have wonderful suspension, suitable for use off-road. Don't buy one if you intend to commute regularly on the train, though. Most experienced APB owners split their bikes only in an emergency – it takes several minutes.
Super-compact Folding Bikes: 16 or 18-inch wheels
Bikes with 16 or 18-inch wheels have a more limited range, but with the right tyres and components, the best are capable of 50-100 mile rides. Generally, these are amongst the most compact and fast-folding machines, zipping down to suitcase dimensions in 20 seconds or much less.
Small wheels can give a harsh ride, so suspension is a must if you are riding any distance. These bikes are sufficiently compact to be wheeled around the supermarket, carried nonchalantly onto a bus, or even kept under your desk.
The British-made Brompton is king of the 16-inch bikes. It gives an excellent ride (thanks in part to rear suspension), it's sturdy, and it folds very quickly to a smaller package than any other bike on the market. They cost from £600 and can be fitted with a neat range of quick-release luggage. Any downside? It's a bit heavy at 11.2kg plus – if you want a lighter bike with a better ride the 'Superlight' Bromptons start at £1,125. The 18-inch German/Taiwanese Birdy has a light aluminium frame and full suspension, at the expense of a larger folded package but a price tag of £1,200 to £2,200. You can even specify off-road tyres, turning this road bike into a great little performer on tracks and trails.
Very Small Wheeled Folding Bikes: sub 16-inch
Below the 16-inch bikes are machines with 16×1.75 or 16×1.5 tyres. Confusingly, these measure 305mm across the rim, and little more than 15 inches overall. They are generally less sprightly on the road than the true 16-inch tyres. These bikes rarely offer suspension, and tend to get by with soft squidgy tyres that can make pedalling hard work. Strangely, most of them produce a larger folded package than the Brompton, despite their smaller wheels.
The best known 16×1.75 manufacturer is Dahon, and its 2011 offshoot Tern. Although Dahon bikes start at around £500, the company also 'badge-engineers' folding bikes for other manufacturers, and these can be much cheaper. We should also mentuion the unique Strida – a revamped version of the 'stick' folder from the 1980s. It has only one gear, but it's light and relatively cheap.
At the bottom of the heap are a whole range of good, bad or indifferent, mostly Far-Eastern folding bikes. These tend to be heavy, with dodgy folding mechanisms, but they can be very cheap – from £100.
Choose the right folding bike and you'll wonder how you ever lived without one!