This page ranks folding bikes available in the UK based on our reviews in A to B magazine, and each folding bike is judged by a star system. This can only provide a rough guide, particularly where one rating covers a range of different bikes. You'll find the best folding bikes at the top of the page and the worst below.
Full reviews of most of the folding bikes featured below are available from our back numbers list, but new subscribers can receive all digital issues back to issue 55 (August 2006) for just £2, so it will usually be cheaper to take out a digital subscription than order several recent back numbers.
Save 20% – 18 magazines for less than the price of 15. See subscription discounts.
Brompton
Price: From £765   Rating: 5/5   Verdict: "Still the best compact folder on the market"
After a production run of nearly a quarter of a century, the Brompton remains the definitive folding bike. Revamped several times, the model range was completely reconstructed in 2005, with two new families – the sporty S-type and touring P-type. With the new bikes came a whole range of new accessories and options, from ball-bearing rollers for the rear rack to lightweight titanium frame parts. Folding the Brompton takes less than 15 seconds to a volume of 85 litres (3 cu ft) and it locks together, so it's easy to carry. Unique to the Brompton is a range of pricey but effective luggage secured over the front wheel by a quick-release system. Rear suspension deals with the bumps and the small 16-inch wheels make the Brompton very maneuverable through traffic, its natural habitat. It weighs from about 10kg and is currently available with a 3-speed hub; 3-speed hub plus Brompton's own 2-speed derailleur, producing an effective 6-speed; 2-speed derailleur, or single speed. Primarily a commuter machine, the Brompton can actually be ridden considerable distances thanks to its rear suspension and high-pressure tyres.
Some Brompton models have a rack and dynamo lights, but our tip is to opt for the cheaper, lighter 'L' type, plus the front luggage and optional battery lighting set. If you can afford it, the L-X option is lighter still.

Although designed and produced in England, the Brompton has also been built under licence by Neobike in Taiwan for sale in the Pacific rim countries, but this agreement has long been terminated and production wound up. Strangely, if you see a Brompton carrying a Union Jack flag, it will either be one of these early pattern machines, or a more recent pirated copy. It will almost certainly be made in Taiwan or China! Other manufacturers – notably Oyama and Merc – have tried to copy the Brompton, but the results are usually a bit laughable and Brompton has taken legal action to have them destroyed. Recently, reviews elsewhere have questioned the Brompton's place at the top of the pile, and it's true that in the last few years the Brompton's meticulous engineering evolution seems to have been replaced by lifestyle accessories and PR guff, but the bike remains fundamentally in a different league to everything else. The spec of the titanium bikes has recently been downgraded, which is a real shame, and several recent engineering projects – such as the power-assisted Brompton – have come to nothing. But it's fundamentally such a superb product, we can see no viable challengers for the for the foreseeable future. More recently, the 'H' type bars were introduced for taller people for whom the bike could feel a bit tiddly.
Beware of imitations – see Merc below!
We have numerous road-tests of Brompton models and technical articles.
Airnimal
Price: From £999   Rating: 4/5   Verdict: "Superb performance machine"
The Airnimal is designed in the UK, but the frame is made somewhere cheaper, so this attractive, low-volume performance folding bike is less expensive than you might think. Like the Bike Friday range, the Airnimal can be quick-folded for the train, or dismantled for long-distance hard-case transport. Airnimal's special selling points are suspension on some models, and larger (507mm or 520mm) wheels. These are sometimes described as 20-inch, but are actually 24-inch. Tyres are a bit rare in these sizes, but the extra diameter will give a slight performance edge and a bigger bike feel without undue compromise on folding.
The Airnimal folk don't seem to like us much, so we have never had an opportunity to test any of the bikes.
Bike Friday
Price: From £1,195   Rating: 4/5   Verdict: "Probably the best high-performance folding bike"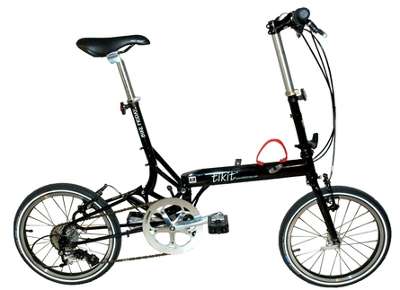 A high performance 20-inch (406mm) wheel folding bike from Oregon, USA that has competed and toured all over the world. Most models are made to measure, and the best known is the touring/commuting New World Tourist. Over the years Bike Friday has produced a bewildering range, from out-and-out sportsters, through off-road bikes, machines designed primarily for easy transport by air, and even tandems and recumbents. Perhaps wisely, the company has now retracted to its core range: New World Tourist, off-road Pocket llama, sporty Pocket Rocket, Select Tikit, Family Tandem and Select Silk. The 16-inch Tikit is an interesting machine, taking the company into Brompton-style commuter territory. It's a lovely bike to ride, but less practical than the Brompton in terms of folding and luggage carrying.
Lightweight (from 7.3kg upwards), with quality components, most Fridays fold in 15 seconds to a package of 170 – 340 litres (6 – 8 cu ft), and can also be dismantled and packed in a hard case in about 30 minutes. The Tikit is suitable for train/bus commuting, but the other folded packages don't lock together so are really only suitable for occasional air travellers.
We have a number of road-tests of Bike Friday models and one technical article.
Mezzo
Price: From £725   Rating: 4/5   Verdict: "Good idea, early detail problems, but now much improved"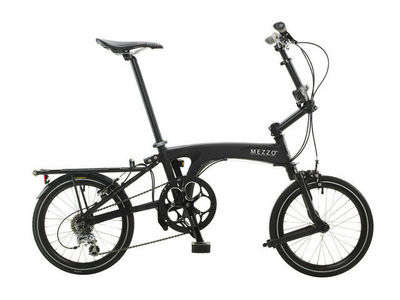 When the Mezzo was first shown at the 2004 Cycle show, its sporty good looks and neat engineering promised great things. But the reality with the Nexus hub-geared i4 was a little different, thanks to poor tyres, a poor hub and unambitious gearing. The d9, with a similarly under-geared version of Shimano's normally delightful 9-speed Capreo derailleur, also proved a bit disappointing, but the bikes have been extensively revised since. From July 2010, the rather square original design was joined by a Curve variant in 9-speed spec, and more recently the flagship 10-speed d10 has been revamped with yet another frame design and improved spec all round. It's now a good folding bike, and looking quite good value against the Brompton too.
We have road-tests of the Mezzo i4 and d9.
Tern
Price: From £300   Rating: 4/5   Verdict: "The best of Dahon, repackaged"
When Joshua Hon broke away from his father's company Dahon, to set up a younger, slicker company, we expected all sorts of exciting things, but the reality has been a very similar range, with the only real difference being in the younger, slicker marketing. At least the range is simpler and easier to understand, with just five frame styles and 22 variants in all, from the 20-inch Verge to the 26-inch Joe. Prices were all over the place while former Dahon dealers were selling off their very similar stock, and in early 2014, there remains a great deal of confusion, with 2012, 2013 and 2014 models being sold side-by-side. This has not been helped by Tern's decision to sell the bikes through Evans in the UK, whereas Hon Senior has landed with Raleigh… a safer pair of hands.
Dahon
Price: From £330 Rating: 4/5 Verdict: "Looking stronger in 2014, with better UK distribution"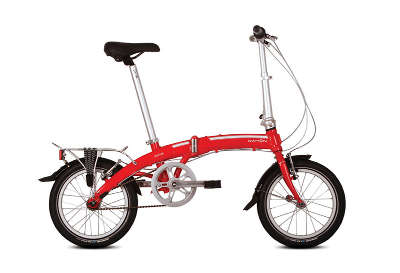 Designed in America, but built in Taiwan, and more recently China and Macau, Dahon produces a range of neat folders, from economical 16-inch (305mm, rather than the bigger 349mm tyre) models to full-size MTBs and 700c road bikes.
In early 2010, a confident Dahon claimed to be the biggest folding bike manufacturer in the world, and it certainly offered the widest range. Within a year, the empire had split apart, with young Joshua Hon leaving to set up Tern, taking the youngest and most able designers and marketeers with him, while his father David stayed at the helm of Dahon. For while it looked as though Dahon wouldn't survive, but David is made of tough stuff, and he's been in the business a long time. In 2014, the company seems to have rediscovered its impetus, with deals going on all over the place. The crucial one in the UK is a distribution deal with Raleigh, giving Dahon access to Raleigh's huge dealer network.
Dahons have also been marketed under a variety of brand names in different countries, and this process of 'Badge Engineering' continues apace. In the UK, badges include Dawes, Ridgeback and Rudge. Dahon also licenses its technology to affiliated companies such as Yeah bicycles, so very similar looking machines may turn up under different brand names, sold through marine chandlers and other outlets. Dahon's bikes have also been copied by Neobike.
Ignore the basic 16-inch Dahons, which have smaller (305mm versus 347mm) tyres than the Brompton, Tikit and Mezzo, and no suspension, so rolling resistance is horrible, and they trip up in every pothole. The specification and performance of the larger wheeled Dahons has improved out of all recognition, and they currently produce some of the lightest bikes on the market too. Dahon is best known for its 20-inch (406mm) machines, and there are plenty (some would say too many) to choose from. At the budget end, we'd recommend the Vitesse or Speed, and the elegant Mu SL, which weighs less than 9kg. There are also a number of 26-inch and 700c full-size machines available, including mountain bikes of varying sophistication.
A to B tip: You don't need to buy a Dahon to get a Dahon, because the machines are so widely 'Badge Engineered'. There are also lots of old stock bargains to be had, and bikes from a year or two ago are often very similar to the latest models. Shop with caution.
We have numerous road-tests of Dahon models.
Moulton TSR 
Price: From £950   Rating: 4/5   Verdict: "Cheaper Moulton variants built under licence"

Some years ago, Pashley began producing mass-produced version of the Moulton bicycle, with front and rear suspension, 20-inch wheels and a steel space-frame. This APB (All Purpose Bicycle) was comfortable and rode well, even off-road with the right equipment. But at 13 to 14+kg, it was heavy, and had a solid, frumpy feel that left many owners dissatisfied. It was replaced with the TSR, a lighter, neater and rather upmarket machine, with prices starting at £1,200. The process has now reached what was perhaps a logical conclusion, with the Pashley bages being removed and the TSRs sold as Moultons through the Moulton distribution network. Like the 'proper' Moultons, the TSR doesn't fold, although most split in two, which takes a few minutes. These machines are not suitable for regular folding, so don't expect to undertake daily commuting. Incidentally, the rumour is that the TSR is named after the British jet strike aircraft of the 1960s that promised to outfly the Americans and Russian designs, but was tragically cancelled and scrapped, along with our space project. Hope the bicycle doesn't go the same way. Joking apart, these are lovely bicycles, and cheaper than you might think, but they are knocked down the list by their poor folding abilities. 
We have two reviews of the Moulton APB and one of the Land Rover, but none of the TSR.
Strida Mark 3
Price: From £480 Rating: 3/5 Verdict: "Lots of style, and now a surprisingly good performer too"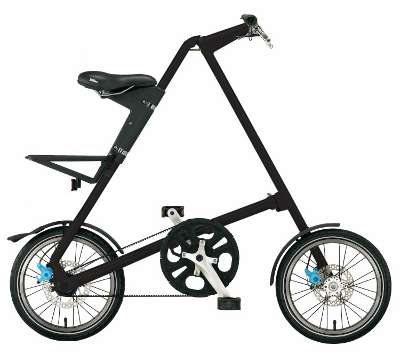 After six years, the unique Strida returned to the market in 1998 as the Mark 2, but production later moved from Suffolk to Taiwan and the bike was revamped to produce the Mark 3. In China the number four is considered unlucky, so Strida produced the Mini instead, then moved on to the Mark 5. Although rare in Britain, the bikes have been a huge hit in the Far East and it is this success that has funded a gradual process of development. For many years the bike was a single-speed, but you can now buy a two-speed with a Schlumpf crank-mounted gear set, and even a 3-speed – almost certainly the first three-speed, kick-change crank-mounted gear set ever. Ironically, considering its UK origins, the Strida is hard to find in the UK, but it has developed into a great little bike. Constructed from aluminium and plastic, and weighing less than 10kg, the Strida has drum brakes and an oil-free toothed rubber drive belt for easy maintenance. Folding in ten seconds or even less, this is the ultimate 'stick' folder. A much prized fashion accessory for the cyclist with everything, and now re-engineered to perform much better. No, honestly, we rode 10 miles without the slightest problem – it's now a perfectly practical bike. Folded size has improved too. The maximum dimension is still 113cm, but folding handlebars have cut the folded volume in half, to 130 litres (4.6 cu ft)
We have three road-tests of the Strida.
Kansi 
Price: From £500   Rating: 3/5  Verdict: "Appeared overnight"
We're told that Kansi is an entirely artificial creation of Fisher Outdoor Leisure, one time UK Dahon distributor. When Fisher fell out with Dahon it got revenge by introducing its own folder brand, produced by U-bike of Taiwan. There's nothing wrong with that, of course, and good luck to 'em, but Dahon got the last laugh when the Kansi bikes were all recalled in July 2011 following a couple of frame failures. They are neatly styled machines, with some nice straightforward gear options, but completely lacking in such things as mudguards and lights, and much too expensive for what they are. 
Giant Halfway 
Price: From £529   Rating: 3/5   Verdict: "Stylish and practical, but undergeared and heavy. Looking old"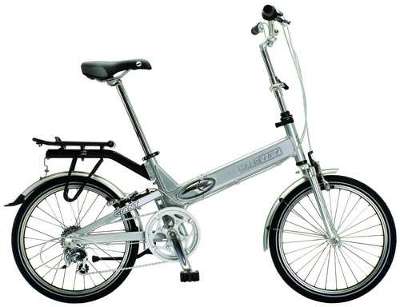 The Halfway is based on a Mike Burrows design, but built in Taiwan by Giant. Despite – or perhaps because of – the monoblade forks, the handling is very safe and secure. Twenty-inch wheels and a rigid alloy frame inspire confidence, particularly for those unfamiliar with small wheels. On the downside, it's a bit heavy and the gearing is on the low side, but something of a modern classic all the same. The Halfway was joined by the Subway in 2011, a cheaper, more conventional 16-incher of dubious origins, kept hidden firmly under the counter by wise Giant dealers. This nasty little bike was supposed to retail for much the same price as the Halfway, but thankfully was dropped in 2012.  
We have one road-test of the Giant Halfway Multispeed.
Birdy
Price: From £879    Rating: 3/5   Verdict: "Unique all-purpose machine, but less attractive than it was"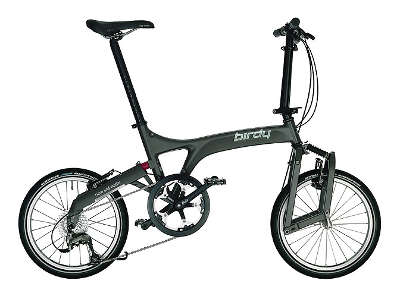 The German designed/Taiwanese built Birdy epitomises a new breed of high tech, forward-looking folding bikes. The frame is made of sturdy aluminium and has both front and rear suspension, offering a smooth ride, anti-dive braking and excellent handling. Unfortunately, the UK price is now a little high, thanks to exchange rate thingies. The Birdy was starting to look a bit dated, but has been revitalised with a new monocoque frame on most models. Manufacturer Riese & Muller seems to have given up on the cheap end, so there are now only four models; Touring with SRAM 3×8 hub/derailleur system; Speed with 9-speed derailleur; City with Nexus 8-speed hub transmission and Rohloff, with 3-speed Sturmey… no only joking, 14-speed Rohloff hub transmission. You'll need a mortgage for that one. The Birdy weighs from 10kg, so it's reasonably light, but rather overtaken by recent Dahon and Brompton models. Folding takes from about 15 seconds and produces a 190 litre (6.6cu ft) package, but not everyone finds the technique easy. Tyres are 18×13/8-inch (actually barely larger than 16×13/8?) and are mostly of quite poor quality, although the range of tyres has increased. There is no specific off-road version of the Birdy, but optional knobbly tyres produce a machine that performs well on tracks and trails. The Birdy sounds a powerful contender on paper, but it's too finicky for daily commuting and much too expensive. You really will be happier with a Brompton or Mezzo.
We have numerous road-tests of Birdy models and two technical articles.
Moulton New Series
Price: Mentioning the price would be vulgar   Rating: 3/5   Verdict: "At 16mph all you can hear is the ticking of your knee joints"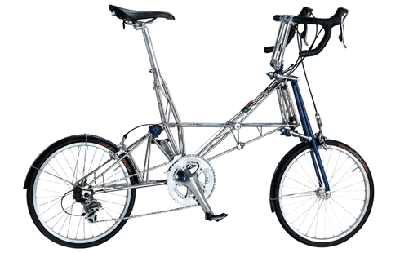 The Rolls-Royce or Morgan of cycling, depending on who you believe. Still hand-built in Wiltshire, England, Dr Alex Moulton's radical space-frame design has stood the test of time in its latest incarnation – the New Series. Front and rear suspension, high-grade components; a bike for the connoisseur. Superbly engineered, the Moulton doesn't fold, but splits in two like the APB. Moulton produced the first small wheelers, and his latest machines are rightly considered amongst the best in the world. On the other hand, they cost an arm and a leg, and they don't fold.
We have two road-tests of the older Moulton AM.
Jango Flik
Price: From £499   Rating: 3/5
An interesting development, the Jango folds very quickly – you drop the saddle stem and the wheels move towards each other, but sadly never actually meet. And that's the basic problem. It's an attractive bike, and nice to ride, if a bit low geared, but a rather disappointing folder. The saving grace is a width of only 27cm with both pedals folded, but the near one metre length and height would count against it on the train, and cause some serious issues on a bus or coach journey. The more expensive 'V' models are fitted with Bickerton style 'V' shaped handlebars that allow the stem to drop further in the quick 'Shuttle' fold, which is supposed to make the machine easier to manoeuvre in airports and railway stations, but the overall folded size is no smaller, and we're not convinced they are worth the extra cost. If folded size is of little relevance, go for the cheapest T8 model. If it is, look elsewhere.
We have one road-test of the Flik T8.
Mobiky Genius
Price: From £489   Rating: 2/5   Verdict: "Heavy and expensive, but rides surprisingly well"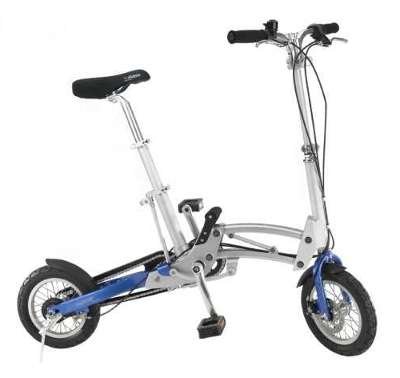 The Mobiky Genius is a rather elegant French 'concertina' folding bike design. Although it uses small 12.25-inch wheels and a double reduction gear to get reasonable gear ratios, the bike actually rides much better than you might expect, thanks to free-running tyres and sensible 3-speed hub gears. So you'll look dead sexy swishing down the boulevard on your Mobiky, but rather less chic when you fold it. The bike makes a heavy (14.1kg) and rather bulky package. As is so often the case with these compact machines, we'd give it quite an enthusiastic thumbs up if you couldn't get a Brompton for the same sort of price, but you can.
We have one online review of the Mobiky Genius.
Di Blasi 
Price: From £439   Rating: 1/5   Verdict: "Heavy, undergeared and overpriced"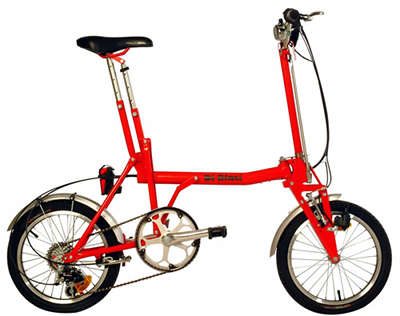 A 16-inch Italian folding bike, the Di Blasi R24 is now out of production, but may still pop up new or second hand. Don't buy it. It folds very quickly (about 12 seconds), but it's a heavy machine and a horrible lump to ride. It has been replaced by the more practical R22 with 20-inch wheels, but this is still a big, heavy machine compared to the 20-inch Dahons and other more conventional designs, and at £740, it's much to expensive. The R32 folding trike is an astonishing machine, but even heavier and more expensive. For some reason, the Di Blasi remains popular with the yachting fraternity.
We have one road-test of a Di Blasi trike. (See back numbers)
Breezer
Price: From £450   Rating: 1/5   Verdict: "Itzy and i3 are poor, but the i7 is worth considering"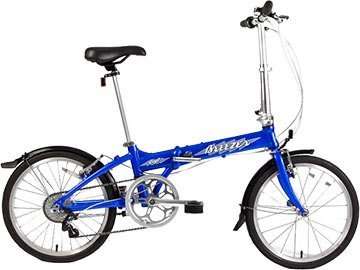 When big companies put their badge on a folding bike, it's vital that they choose well from the available machines. Breezer has made one good decision (the i7) and two rather dubious ones (the itzy and i3). The bikes are actually made by Oyama: The little Itzy has a super-short wheelbase and is not really suitable for carrying a typical North American. The larger i3 is a rather half-hearted Brompton clone, sold in the UK as the Space Genie. OK, but against the Brompton it's completely outclassed. The i7 is a much better machine, with a decent alloy frame, 7-speed Nexus hub and some proper components. However, at $699, it's up against the cracklingly good Dahon Speed Pro and the base level Bike Friday Metro. All the same, the i7 would probably get three or even four stars on its own, but it's dragged down by it's smaller cousins.
We have one road-test of the Breezer i3 (Oyamao Space Genie).
Universal
Price: From £130   Rating: 1/5   Verdict: "Yawn, yawn. Long, long overdue for a replacement"
The Skoda of folding bikes – the Universal is still the cheapest folder available, but the Chinese are challenging. Made in Poland, the bike looks like a 1960s-vintage 'shopper', which is exactly what it is. It's heavy, it doesn't fold very well or clip together, and the ride and handling are poor. Well equipped, with luggage rack, propstand and bell, the Universal is available in single speed or Sturmey Archer 3-speed variants.
We have one road-test of a Universal. (See back issues)
Merc
Price: £400   Rating: 1/5   Verdict: "Dysfunctional pirate copy"
The Merc is an attractive Chinese pirated clone of the Brompton, correct in most respects, and apparently upgraded from the classic British bike, thanks to a light alloy frame. The reality is a bike that weighs 13.2kg (heavier than the steel Brompton), on which almost nothing works properly – the saddle slips down, the brakes barely function, the front carrier block is a bit dodgy, and the cables get in a tangle when you fold it up. If offered one at the ludicrous price of £499, just say no.
We should add that the Merc seems to be attracting a vociferous following: ' just as good as a Brompton…', 'a Brompton rider stopped and offered me money for it…', etc, etc. We can only say that these dynamic qualities were not immediately obvious in the bike we tested. If it really has improved, we may well return. Watch this space!
Giatex
Price: Appears to have gone to that great scrapyard in the sky.   Rating: 1/5   Verdict: "Guaranteed to break the ice at parties"
A horrible short wheelbase small-wheeled machine that folds by, er, telescoping the mainframe. An interesting idea, but it's less stable than a more 'conventional' folder, heavier than most, and it folds into a ginormous package. Hence the name, one assumes. Next please!
Gekko
Price: From £150   Rating: 1/5   Verdict: "Absolutely no redeeming features"
We're too kind – one star is extremely generous. A good idea, but poorly executed in China, resulting in a cumbersome, heavy, over-priced folder with tiny wheels, and the rolling resistance of damp putty. We wouldn't ride this machine if it was the last bike on earth. Seriously, we would walk instead.
We have one road-test of the Gekko. (See back issues)
Sinclair A-Bike City
Price: £299   Rating: 1/5   Verdict: "Fabulous folder, but almost unrideable"
The original A-bike Plus has now been replaced by the more expensive, and slightly more conventional A-bike City, with improved saddle and slightly larger 8-inch wheels, but dynamically it's not so very different. Our single star is for the fold, which is very neat, and the light weight. The bad news is that the City costs £300, and it's almost unrideable – something of a flaw on a bike. We rode ten miles largely on the flat, and taking great care to avoid pot-holes. Others have ridden up the road and back. Some blogger somewhere claims that his wife has ridden a nonchalant 30 miles, which is almost beyond belief, but people do odd things. Still, Sir Clive is a smashing bloke, and we look forward to his next invention with fascination.
We have one online review of the Sinclair A-bike.
Tandems
Price: From £1,595 or $1,195   Verdict: "One day, all tandems will be built this way"
Want a tandem, but don't have room to store it? There is now a range of folding tandems available. The Green Gear (Bike Friday) Family Tandem provides excellent value and can be set up to fit children as well as adults in the stoker position. Unfortunately, the bike is not currently available in the UK.
The Family has small wheels and splits in two, but conventional tandems, such as the Co-motion Co-pilot and the Swallow, can be fitted with S&S stainless steel couplings, allowing the frame to be split into 6 or 8 pieces. Folding is a time-consuming process, but the most compact machines can be carried by train or air in relatively small hard or soft cases. Bike Friday also produce the Two'sDay – a clever, but rather complex small wheeler, and Montague and Redlof produce economical full-size folding machines.
We have two road-tests of folding tandems. (See back issues)
Recumbents
Tandems are pretty cumbersome, but recumbents are even worse. Partial folding or separable recumbents have been around for some time, and there are now a few innovative folding machines such as the HP Velotechnik Grasshopper,  Toxy Flite, and ICE B1 & B2. There are also several folding recumbent trikes available such as the ICE Sprint 3 and Greenspeed 's  GT3. Unfortunately the Brompton recumbent kit is no longer in production.