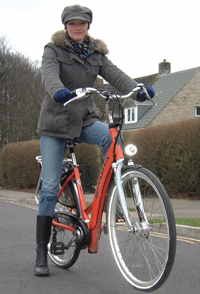 In The Netherlands,as any small boy will tell you,there are no hills (or very few),but they do get some nasty headwinds out on the polders.Being a great bicycling nation,it is perhaps no surprise that the Dutch are also big manufacturers of power-assisted bicycles. And as a general rule,they design bikes with Dutch conditions in mind – endless,flat, windswept bicycle paths,rather than steep Cornish lanes,for example.
Typical of the genre is the Sparta Ion,a power-assisted roadster which has been selling fiendishly well in its home market for a year or so.Who,you may ask,are Sparta? As in the UK,mainland Europe once had many bicycle companies.Ours were mostly gobbled up and turned into meaningless brand names by Raleigh,while the Continental brands were eaten by something called ATAG, which appears to major on kitchen appliances these days.
In the late 1990s,ATAG 'hived off' its bicycle interests under the group name Accell: Sparta is one of the key brands, but Batavus is the biggest,and the group also produces Hercules,Koga-Miyata,and several others we've never heard of.Headquarters are in The Netherlands,where the Accell group has nearly 50% of the market,and in marked contrast to the British slash & burn approach, manufacturing plants have remained open in five European countries.Most of the frames are made in the Far East these days,but unlike the 'British' Raleigh,an Accell machine can reasonably be described as European.The brands seem to have considerable autonomy,but they benefit from shared technology.Thus,the Sparta Ion power system is also available on the similar Batavus Padova,Koga-Miyata Tesla and Hercules Emove.
Last summer,the Sparta rep visited us at the start of a UKwide dealer tour,and was fully expecting to have the bike on sale here within a few months.Maybe the UK market didn't seem worth the effort,or perhaps Sparta took on board our dire warning about gradients in the Celtic fringes.Whatever the reason,the project to build a dealer network went quietly onto the back burner.This is still the case,but the Ion is now available through longtime Sparta specialist,Drakes of Cambridge,and Amsterdammers,a small shop in Brighton specialising in secondhand Dutch roadsters.
The Ion is available in several variants,from the steel-framed,single-speed Comfort at £1,250,to the matt black alloy Style,with derailleur gears,no suspension and a £1,720 price tag.The one you're most likely to see in the UK is the mid-range M-Gear: alloy frame,seven-speed derailleur,suspension and drum brakes for £1,429.This is the bike we've tried.Just for the record,this bike (and most variants) also comes with a stand,rack, fitted lights,pump,wheel lock,full chain guard,decent mudguards,Continental City Contact 42 x 622mm tyres,and – very rare in the UK – a skirt guard.
Motor & Controls
Like the BionX,with which the Ion shares a few similarities,the Ion has a direct drive motor,so it's virtually silent – even quieter and smoother than the BionX,which makes a few gentle noises at low speed.And although the motor spins all the time,it isn't geared like the new Twist,so there's no discernable drag.This low-key motor,coupled to an invisible battery pack (it's in the frame) make the assisted element of the machine very hard to spot.To all intents and purposes,this is a normal Dutch bike,and at 28kg (there a lighter single-speed too),not even precociously heavy.If you want your power assist well disguised (and customer surveys suggest that buyers do ),the Ion is the bike for you.Direct drive motors are also well suited to providing regenerative braking,but the Ion doesn't have this facility.No hills in The Netherlands,of course.
Lack of regen is a bit disappointing,but the bike is otherwise laden with technology. What the Ion does very cleverly is to make good use of the various sensors,computer capacity, battery and motor that make up the power-assist package.For the first time, these elements are integrated into the bike rather than bolted on as afterthoughts,just as electronics have become an integral part of the modern car.On the handlebars is a round control unit,featuring a speedometer, odometer,battery meter,power switch and light switch.To prevent tampering and keep it safe from the elements when you're not riding,the control unit simply twists off – the idea being that you take it with you,even if you're just popping into the corner shop.Removal of this master display will not stop a passing thief half-inching the bike, but the integral wheel lock will,and without the display,the systems are unusable.Each unit is programmed with a unique code,so a potential thief won't be able to make it work without access to Sparta's diagnostic plug-in whatnot. Incidentally,we were told that removal of the rear wheel may also make reprogramming necessary – something to think about if you get a puncture.
It's becoming the norm on electric bicycles to take a feed from the traction battery to run the lights (front,rear and speedometer on the Ion).And in this case the system continues to function when the battery is flat by using the motor as a generator.
The controls are nice and ergonomic.The smaller bits of the liquid crystal display can be hard to read in sunlight,but at night it's backlit in a sexy blue and much improved. Unlike the Giant Twist,the Ion has just two well separated buttons,one for the lights,and another which clicks through a menu,including a mileometer (kilometre-ometer in this case) and three power levels.There's also a diagnostic function that tells you when something has gone amiss.The bad news is you can't do anything about it,but the good news is that your jolly local Sparta dealer will plug it in to his whatnot,reboot it and away you go.In the UK,this means a trip to Cambridge or Brighton,but people have dreamt up stranger excuses for a long weekend.
When the nice man in the Sparta shop plugs in his diagnostic whatnot,he will be able to tell you how far you've been,how much effort you've used,how far you get on a charge,and much more besides.It's all a bit Big Brother,but useful in terms of keeping the bike in tip-top condition.Some say the dealer can tweak power levels up or down to suit your riding style,but others deny it.
On the Road
The Ion is available with ladies or gents frames in no fewer than five sizes.Ours is the smallest (46″) ladies frame and it fits more or less everyone,so size should not be an issue…First impressions are of a lithe and lightweight bicycle,which is somewhat illusory, because at 28kg it certainly isn't light.Nevertheless,it's reasonably light by electric bike standards,and it feels lively,which is all that really matters.With no appreciable drag from the motor,rolling resistance is more or less conventional for a bike of this type – we recorded a roll-down speed of 14.7mph,which is slightly off the pace,but adequate.Rolldown speed might seem unimportant on an electric bike,but it's a surprisingly accurate guide to the 'IT factor' – whether a bike makes you grin,or grumble.
If you choose to dial in some power assist,you simply set a power level and keep pedalling.With a very gentle surge,the bike then accelerates a bit faster.There's no noise, no vibration,indeed no suggestion of any kind of intervention.Stop pedalling,and the assist melts away.Lean on the pedal at a junction and nothing happens,but start turning the pedals and the gentle surge returns.With such a quiet motor and unobtrusive assistance, it's hard to judge the cut-off speed.Sometimes the power has gone by 15mph,but at other times the bike seems to pull to around 17mph or so.Whatever,there's very little indication of the motor starting or stopping.The only indicator is a 'fuel' gauge consisting of a ring of little bars (3% increments) around the speedometer.Like everything else on the bike,this is well thought through,and pretty accurate.
Should you be getting terribly excited that the Ion might be all things to all people, there are a few downsides.With the motor in the back wheel,there's no room for hub gears,so the Ion has to make do with a cheapish Shimano Nexave derailleur.This limits the gear range,resulting in some rather unhappy compromises.At 37", first gear is too high for hill climbing,and the 81" top gear is too low for comfortable The Ion is a pretty bike,and with the battery hidden in the curved frame tube,few people would even realise it was assisted cruising.What the bike really needs is something like the Megarange – we don't know whether this can be shoehorned on,but it would help sell the concept no end,because direct drive motors tend to be weak on hills.
Now,you may be saying,if a motor is no good on hills,what's it for? A valid point,and the usefulness of this sort of bike depends very much on where you live and how big the hills are.In undulating country,or into modest headwinds,the Ion is great fun.It's basically just like any other bike,but it goes further and faster for the same effort.Hit a hill,and you're soon slogging up in that 37-inch gear,which sounds like hard work,but you only have to turn the motor off to prove that it's still doing a fair bit.Maximum gradient? As with the Giant Twist,it's hard to put a figure on this,but the Ion is certainly a little weaker. Interestingly,Sparta has promised a more powerful motor for 2008,with sales to the UK and other hillier markets in mind.For now,though,it's just about up to 1:7 (14%),but it isn't keen on restarting on this sort of hill,and it won't climb for long.After a sustained 700 foot climb – not all of it particularly steep – the bike flashs error message E21,which means the motor is overloaded.You don't need to do anything – the Ion simply backs the power off for a while,but it's a clear message that this isn't a hill-climber.Having said that,it still managed 12.4mph in hilly country (the same as the Twist) but it certainly felt less able.
Back in gentler country and you're soon smiling again.On our largely flat ten-mile test route the Ion did much better than expected,completing the course in 37 minutes – slightly behind the similar BionX,but about as fast as you can go with an 81-inch top gear over that sort of distance.Average speed comes out at 14.7mph (yes,it's not exactly ten miles),which is pleasantly fast,but not wildly so.
At night,the 'push of a button' lights are very welcome,as is the illuminated speedometer – why has this simple innovation taken so long to arrive? Rear light is a typical Busch & Muller LED and the front light a Spanninga Radius with halogen bulb and – nice touch – a Sparta badge.In 2005,we'd have described the Radius as state-of-the-art,but since the arrival of the single LED B&M DLumotec,halogen front lights are merely 'good' in our book.
Brakes on our bike are Sturmey Archer drums front and rear.Stopping the bike from high speed takes a mighty heave,but the brakes are powerful,progressive and consistent – just what a cyclist needs.Cheaper models have V-brakes all round,and some others have a Nexus roller brake at the front and Sturmey drum at the rear,but despite the small weight penalty,the double drum package seems the best.The only slight grumble is that the rear drum (made by Sparta,not Sturmey) has a tendency to squeal when cold.
Most Ion models have suspension front forks and a suspension seat post.We're usually a bit dismissive of this combination,but the components really do work here,giving a supple,comfortable ride.
Range & Charging
Sparta claims an exciting 44 miles in idea conditions,but it's best to leave these sort of figures to the fairies.In practice,we returned a range of 22 miles in mixed use,falling to 19 miles on a hillier route.The Ion has three power levels – Eco,Normal and Power.We generally rode on the Power setting,but Normal is virtually indistinguishable,and the bike is light and agile enough to be used on Eco for long stretches,provided it's not hilly,so with care,it would be possible to go a lot further.For all it's worth,the handbook suggests a range of anything from 7 to 44 miles,which is really hedging their bets…The fuel gauge seems pretty accurate,but it descends a little slowly at first,then more rapidly,the last quarter disappearing in a few miles.This last bit should really be treated as reserve capacity, because after 15 miles,the already gentle motor is rapidly losing oomph.At 14-16Wh/mile,fuel economy is fairly typical for this sort of bike.
When your 22 miles are up,and the power pops off,the display helpfully flashes the code E01,meaning flat battery,but you don't need the Sparta man to tell you that,because it's back to muscle power alone.The Ion is quite a pleasant bike to ride unassisted,but with the limited gearing, hills are bound to be a problem.Range can be extended with an optional 168Wh battery pack that slots onto one side of the rear rack,pannier-style. This costs £265,and by our calculations,should extend the range to 32-37 miles.
The standard Ion has a 24 volt NiMH battery of 240Wh,which is a typical sort of size.Replacing the cells will cost £265,which is reasonable,but the main expense is depreciation of the bike,and on such an expensive machine,that pushes up running costs to around 9.6p per mile overall.
The charger is a delight.It's small (16cm x 12cm x 6cm),light (700g) and with a fast rate of charge,refilling the battery in a little under three hours.A nice touch is that the fuel gauge works it's way back up,giving a precise indication of the state of play.
With such a compact charger and speedy charge time,this is one of the few bikes you really could top-up over a relaxed lunch.The only problem with the batteries being in the frame is that you need to get the bike to within 3.1 metres of a power point – no carrying the battery into the pub unless it's the sort of place that lets the bike into the lounge bar. In The Netherlands,this needn't be a problem,because Sparta has established a network of charge stations at cafes and other public places.Civilised lot,aren't they?
Conclusion
We are sometimes accused of falling too firmly for or against a particular bike,but there's no escaping the fact that this is a good 'un, and thousands of Dutch cyclists have already voted with their wallets accordingly. In Dorchester, the Ion proved something of a surprise hit with just about everyone who tried it.The only grumbles were with the lack of hub gears – unavoidable unfortunately – and the limited hill-climbing ability. Yes, it costs an arm and a leg, but it's one of the nicest electric bikes around.
Sparta Ion M-Gear Specifications
Specification Sparta Ion M-Gear £1,429 . Weight inc battery 28kg (62lbs) . GearsShimano Nexave Ratios37″-81″ . Wheelbase110cm . BatteryNiMH . Capacity240Wh . Range>19 miles Full charge2hrs 45 min . Fuel Consumption overall 13.6-15.7Wh/mile . Running Costs 9.6p per mile . Manufacturer Sparta B.V. www.sparta.nl/uk . UKagents (Cambridge) Drakes Cycles tel 01223 363468 . (Brighton) Amsterdammers tel 01273 571555
A to B 58 – Feb 2007