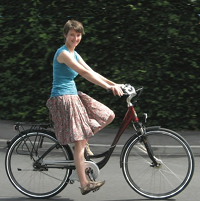 So there's now a British electric bike? Well, yes and no, but mostly no. To explain how and why this has come about, we need to blow some dust off the corporate history books.
Raleigh is (or was) a big British bicycle manufacturer that helped to keep the wheels of the British Empire turning for over half a century. It had divisions all over the world, one of the last being established in Germany in 1974. But by the 1980s, the company seemed to have lost its way, like so much of British industry, and it was sold by British multinational Tube Investments to the giant Derby Corporation of America.
This arrangement seems to have worked quite well, and the company even launched some innovations, such as the Select electric bike, produced with Sanyo in 1998. This was one of the first machines of its kind, but it was slow, with limited range, and at £1,000, it was too expensive. This glorious flop lead Raleigh to retreat from electric bikes altogether, and concentrate on MTBs and BMX bikes, the only serious money-spinners in the fickle UK market. As it turned out, they had missed a big opportunity.
Back in 1988, Derby had absorbed a small, near bankrupt German manufacturer called Kalkhoff, ultimately turning it around as Derby Cycles Werke or DCW, trading under the Kalkhoff and Raleigh brands in Germany. DCW seems to have been bursting with ideas, one of which was to pair the excellent Panasonic crank-drive power unit with some decent equipment and a quality roadster frame… this was the Kalkhoff Agattu, now also badged as the Raleigh Dover. By this time in the early years of the new millennium, the wonderful, but commercially unsuccessful Giant Lafree had been and gone, leaving the Agattu to slip quietly into its shoes. A classic had been born.
Bikes like the Agattu helped to kick-start an explosion in European electric bike sales and the Kalkhoff brand was cannily picked up by 50 Cycles in the UK. Having thrown away a lead of nearly a decade, Raleigh UK was blundering around looking for an electric bike partner, and in late 2006 it settled on a marketing arrangement with Powabyke.This was rather bad news, as Powabyke was still producing stodgy lead-acid electric bikes. So for a while, a customer walking into a UK Raleigh dealership would be pointed towards the agricultural Powabyke Shopper, while Herr Schmidt would be offered the svelte, sophisticated Raleigh-badged Kalkhoff. The collaboration did result in the Powabyke X-bike, which put a Powabyke motor in a light Raleigh frame, but it soon dawned on Raleigh UK that it was stuck with the tractors of the E-bike world, while its smarter, more innovative German cousin had control of the Bentley, or of course the Mercedes, as we must now call it, Rolls-Royce having gone the way of the best of British industry.
In 2007, Derby Corporation decided to concentrate on its core markets, selling the German DCW to an investment bank, so it's now nominally a separate entity, but the Managing Director is still a Raleigh shareholder, and the company is still licensed to use the Raleigh brand in Germany. Confused? We quite understand.
Two years later, Powabyke went into administration (it was bought for a million pounds in October 2009 by Metroelectric PLC) and the hiatus gave Raleigh UK the excuse it needed to escape from the tie-in deal, and go for the much better German bike that already carried a Raleigh badge. A brash young team was assembled with a brief to get a Raleigh UK badge on DCW's Agattu and set up a UK dealer network.
Yes, it's a complicated story, but the upshot is that Raleigh has finally got the electric bike it deserves, and – crucially to this global player – it's better than the eBikes marketed by Giant, Trek and the other big brands. More by luck than judgement, Raleigh has acquired the rights to an extremely good machine.
The Raleigh Dover
The Raleigh Dover As we gave the Agattu a good going over in A to B 63 back in January 2008, we'll stick to the differences here, although there aren't many. Kalkhoff was already selling the Agattu as the Raleigh Dover in Germany (embarrassingly, the German Raleigh bikes seem to be named after cities knocked about by the Luftwaffe), so it was a simple matter to bring the bike to the UK. If you're looking to buy one, it's almost identical to the Kalkhoff Agattu, but interestingly – and perhaps surprisingly – the Raleigh version costs £1,795, against £1,595£1,645 for the Kalkhoff, a premium of £150-£200. On the positive side, of course, you are paying for the reassurance of a big, well-trained, dealer network and a name that almost everyone will recognise. Mind you, the Agattu is one of the most reliable electric bikes around, so the dealers will – hopefully – have little to do. Meanwhile, the ever-canny 50 Cycles has wasted no time in adding 'Like the Raleigh Dover' to its advertising material.
Equipment is almost identical. In 2008, the Agattu was fitted with B&M Lumotec Senso lights, a skirt guard, Post Moderne sprung seat pillar and sprung front forks. Sadly, the frame lock and skirtguard have disappeared from the 2010 bikes, but the rest of the equipment remains as good as ever, with an upgrade from a 7- to an 8-speed Shimano hub. The only differences on the Raleigh are Schwalbe Advancer tyres in place of the Continental City Rides on the Kalkhoff, and a plain rather than sprung seat post.
Our Raleigh test bike feels much sprightlier than the 2008 Agattu, but that's probably because the Agattu and Raleigh now share the sporty Pro-Connect's 1:1.5 assistance ratio on the 'High' setting. It also feels 'peakier', meaning there's less power when pedalling slowly, and progressively more as pedal cadence rises. This may be part of the same changes, or it may be some subtle reconfiguration for the UK, which Raleigh has hinted at. Either way, it feels annoying at first if you're used to older bikes, but you soon get the hang of changing down sooner on hills and avoiding slogging along in a high gear. The general feeling is of a much sportier and livelier bike, and this is confirmed on our ten-mile test ride which the Raleigh knocks off in 33 minutes 15 seconds – nearly four minutes faster than the 2008 Agattu, and 45 seconds faster than the Pro-Connect.
It feels livelier on the road too, partly because of quick, light steering, but no doubt too because it's quite light for a well-equipped electric: 21.6kg for the bike, plus 2.4kg for the battery. In reality, the speed is something of an illusion, because like all Panasonic-powered bikes the gearing is kept deliberately low to limit the maximum speed. Compared to the 7speed we tried back in 2008, first is much lower at 27.3″ (helpful for getting you home with a flat battery), and top is slightly higher at 83″ (previously 80″). That's a touch low, but not low enough for your legs to become a frenzied blur at the maximum assisted speed of 16.6mph.
As regular readers will know, the top speed of crank-drive bikes is usually factory set by fitting a sprocket large enough for the motor to run out of steam at the legal speed limit, so if you like to go slower and/or climb steeper hills, you can easily re-gear it. Conversely, a smaller sprocket will make the bike go faster, which is technically illegal, but we think the police have better things to do with their time. As long as you don't go mad, of course.
Back in 2008, our Kalkhoff Agattu had a range of 26.7 miles at 13.7mph on High, and the lighter, lustier Pro-Connect managed 31.5 miles at an average of 14.7mph. Today's Raleigh (and, again, this probably applies to the 2010 Kalkhoff Agattu as well) achieved a median 28.4 miles, but with its higher gearing and peakier power output, average speed was a cracking 15.3mph. So the new bikes are faster and more economic than the 2008 Agattu, and a little faster or more economical than the older Pro-Connect. And all this is on full power. From experience, we'd say that 28.4 miles would equate to at least 31 miles on Normal power, and perhaps as much as 50 miles on Low.
Fuel consumption comes out at 10.9Wh/mile, and again, that's more or less par for the course against the Kalkhoffs, and a very low figure for such a high average speed.
According to Jane, who knows the Giant Lafree well, the Raleigh/Kalkhoff has a more upright seat tube, which combined with bigger 28-inch wheels, and a relatively high bottom bracket, makes it impossible to get a straight leg riding position, and put a foot down comfortably at the lights. This does seem to be an issue with these big European bikes, and putting the saddle right back is only a partial answer. For now, Raleigh will only be importing the small 45cm (step-thru) and 53cm (diamond) frames, but if you really need something bigger (very unlikely) you can buy the Kalkhoff version.
Running Costs
One advantage of the widespread adoption of the Panasonic crank-drive is that quite a list of bicycles are now fitted with identical batteries, so if you're in the market for a replacement, you can shop around. The primary brands in the UK at the time of writing are Emotion, Kalkhoff, Kettler, Monark and Raleigh. Raleigh admits it isn't the cheapest for batteries and other spares, but there's no obligation to buy from a Raleigh Ebike dealer. Like all other Panasonic bikes, the battery guarantee is two years, something that is gradually being adopted as an industry standard.
As far as we know (do tell us if we're wrong) 50 Cycles is currently the cheapest for batteries, but be prepared for a shock, because it now costs £400. This is effectively the only running cost, but no one can yet say for sure how long the batteries will last. Pessimistically, we assume failure the day after the guarantee runs out, and on that basis, the Raleigh will cost 10.7p per mile to run. That's better than average, helped by the high mileage per charge.
Conclusion
Watch out gents, the Raleigh is a big hit with the ladies. One who happened to be passing fell in love with it, Jane decided it was the first electric bike she would consider to replace the venerable Lafree, and Teresa already has a Kalkhoff… We ended up doing more mileage with the Raleigh Dover than anything since the Giant Lafree.
Where the Dover/Agattu really succeeds (particularly with the extra oomph in High power) is that it does the business for most of the people most of the time. It's a big, elegant town bike, but it's also fast enough to eat up the miles on cross country rides, and economical enough to go a long way. It has a low bottom gear to tackle Cornish/Yorkshire/Cumbrian gradients, and a high enough top to nip smartly across the big landscapes of East Anglia. The equipment is good enough for all-weather, all-year-round use, but the bike is still one of the lightest in its class.
All design involves compromise, and there are compromises here aplenty, but the Dover has few obvious weaknesses.You have to be a bit careful with gear changes, and without labouring the point, there remains a question mark over battery life and running costs, but for our money this machine really does continue to redefine the bicycle. The Kalkhoff Agattu is almost identical and cheaper, the E-Motion is a touch more efficient but limited by its gear options, and so on. But there remains a degree of loyalty to that Raleigh badge, despite the fact that there's no British content.We think it will be a hit.
Specifications
Raleigh Dover £1,795 . Weight Bicycle 21.6kg Battery 2.4kg Total 24kg (53lbs) . Battery Li-Ion . Capacity 270Wh . Replacement £400 . Range 28.4 miles . Gear Ratios 26″-79″ Full Charge 6 hours . Overall Consumption 10.9Wh/mile . Running Costs 10.7p/mile Importer Raleigh www.raleighebike.co.uk info@raleigh.org.uk T 01773 532680
A to B 79 – Aug 2010