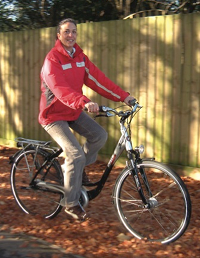 Kalkhoff Aggatu Wave. FIRST PUBLISHED IN A to B 63, January 2008
Not long ago, when the innovative Giant Lafree was discontinued, we began to wonder if the electric bike had any future, other than as a rollerskate for lazy leisure riders. When Giant replaced the Lafree with a crude hub motor system, it looked as though the wonderful Panasonic power unit was dead, and with it the dream of quality, economical power-assisted machines. Why is this system so wonderful? If you live somewhere like Cornwall or Cumbria and you've tried a Giant Lafree, you'll know why. The Panasonic, almost uniquely amongst electric bike power systems,assists at the pedal crank, which makes it very good at climbing hills: when you change down to a low gear, the motor automatically changes down too. The result is a bicycle that's more or less conventional in every way. It weighs little more than a non-assisted roadster, and feels similar on the road, but come to a hill and the bike gently swishes up at something like double the normal speed. When you're faced with a steep hill with two heavy panniers of groceries, the bike will chug sedately up.
The Aggatu
Fortunately, the reports of the death of the Panasonic were exaggerated, and for that we must thank our cycle-friendly cousins in Holland and Germany, whose factories kept the faith when the Taiwanese had moved on to building other, tackier, things. We tested the Gazelle Easy Glider in A to B 61, and mentioned in A to B 62 that Raleigh-Univega in Germany had introduced a range of equally well presented electric bikes using the same system,much to the confusion of Raleigh UK, where the suits had just signed a deal with Powabyke.
It turns out that the Univega is actually a 'badge-engineered' version of the Kalkhoff Agattu. All these brands were once part of the Derby Cycles mega-corporation, but when that pyramid collapsed a few years ago, some some seem to have gone their own way, while others remained under a reformed Derby umbrella. So we think that Kalkhoff and Raleigh Germany are the same thing, but distinct from Raleigh UK, which is something different, but seems to share a logo. Anyway, who cares? All that really matters is that the Agattu is lovingly handcrafted in Germany with most of the technical bits coming from Japan, and in engineering terms, that's jolly good parentage.
The Agattu is a typical sensible European roadster,available in two forms; the step-thru Wave and the diamond-frame Diamant. The electric option is new for 2008 – a stock Agattu fitted with the latest 260Wh version of Panasonic's lithium-ion power unit. The bike weighs a reasonable 23.3kg (51lb),plus a battery of 2.5kg, giving overall weight of 25.8kg (57lb). That's lighter than the Gazelle,a shade lighter than the Schwinn Transit, but heavier than any of the Lafree variants, which goes to show that the technology hasn't moved on that much.
Like the Gazelle, which shares similar technical bits, the Kalkhoff is practical, well-equipped and capable – in short, it's about as good as a bicycle gets. The machine is fitted with Shimano's Nexus 7-speed hub, which is ever so slightly disappointing, because the Nexus 8-speed is demonstrably better, but gears are less important on an electric bike, so you'd have to live somewhere very hilly to miss the extra gear. Like all Panasonics, the power-assist is simple to use. Jump on the bike, pedal off, and it rides like any other, but press a button on the small handlebar switch and the fuel LEDs and power meter light up. From your next pedal stroke until the battery is exhausted, progress will be assisted.
Unusually, there are three levels of assistance. Default is Medium, giving 1:1 assistance (in other words, the bicycle exactly matches your leg power), but you can choose Low (1:0.5) or High (1:1.3) if you prefer. On this free-running machine, Low is more than adequate for a flattish town, the effect being somewhat akin to a normal bike with a gentle tailwind. Medium is more like a typical power-assisted bike, but a little weak at low pedal/motor speed, so you have to make good use of the gears to get the best out of the system. High power is basically the same, but with increased grunt at low speed.
In all cases the motor assists up to about 15mph (more like 16mph with a fresh battery), and like all crank-motor machines there is the disadvantage that the top gear is capped by the manufacturer to prevent the motor assisting beyond this speed. However,crank motors are easily tuneable by simply replacing the rear hub sprocket. The standard sprocket has 22-teeth, giving ratios more or less evenly spread between a lowish 33-inch and a highish 80-inch. A larger sprocket (not easy to find) will give lower gears for hills, and a smaller one will enable the motor to assist you up to an illegally high top speed, but don't get too excited, because these are low powered machines. Experience with the Lafree suggests that 17 or 18mph is about top whack. The optimum gearing depends on rider weight, fitness level and topography.
Riding our largely flat 10-mile commuter route on High power gave a time of 37 minutes, which is noticeably faster than the similar Gazelle Easy Glider, but broadly typical for an electric bike. On our hilly test circuit, undulating between sea level and 500 feet, the motor feels quite meaty on High, pulling well from low speed, and hanging on to the high gears for longer (typically two gears higher than on the Medium setting, if that makes any sense). The bike gallops up hills in a most satisfactory manner, giving an average speed of 13.7mph, which is on the high side,but not spectacularly so. The Agattu walked away with the 1:6 (17%) restart,and easily changed up into 2nd gear after a few metres. The maximum gradient is hard to judge, because we don't have anything steeper to try it on, but like the Gazelle, we'd guess the bike would climb 1:4 (25%) without giving the rider a heart attack. Overall range on the High setting is 26.7 miles.
On the same circuit, Medium feels a bit over-stretched. In easy conditions, the bike feels quite chirpy, but the motor has a lot less torque at low speeds, so when the gradient really bites, you find yourself changing rapidly down through the gears, using 2nd,or even 1st on quite modest hills. A restart on a 1:6 hill is possible, but you really need that 33-inch 1st gear, and you won't progress into second without strong legs. The trade-off is a battery range of 30.2 miles; one of the best results we've seen, even under these quite trying conditions. Average speed is a rather leisurely 12.7mph, which is almost identical to the Gazelle Easy Glider on its Low power setting, albeit over a greater range.
In typical Panasonic style, the battery has a stack of five fuel warning lights, but you can't see these on the move unless you hop off and press a button on the casing. In this case, there's also an array of three LEDs on the handlebars. These give an accurate indication of the power left in the battery, but they're not very linear. Typically, the first light pops off at 71% capacity (Kalkhoff claim 40-70%), the second at 36% (claimed 10-20%), and the last light begins to flash at 27%. According to the manual there should be less than 10% capacity left at this stage, but there's enough juice for another eight miles, so no need to panic. When the battery really is down to its last 10% a battery-saving mechanism cuts the power right back, so if you're planning to climb a steep hill 28 miles from home, you probably won't make it. That said, a range of thirty-odd miles is pretty good, especially from a battery weighing only 2.5kg.
We normally ignore Low or Eco power settings because as a rule they don't do anything you can't do with your legs alone. But when we tested the Gazelle,we felt the lower power setting was genuinely useful. And Low on the Agattu is even lower…
According to Radtouren magazine, three Kalkhoff engineers achieved a record 101 miles on Low back in August 2007, but this was at 12.5mph, on a level track, under carefully controlled conditions. In the real world, mileage is much less exciting, hill-climbing rather feeble, and average speed a bit uninspiring (much the same as a conventional bike, albeit for less rider effort). But as we clocked up the miles, we really began to value this gentle power option. It's valuable for parts of a journey where full assistance isn't needed, and you can easily switch back to the higher settings for hills and headwinds. It's also useful if you, a weaker cycling partner, or an elderly relative needs a small boost to keep up with other cyclists. On this free-running bike, the very low assistance level really is useful. For the record, we achieved a range of 47.6 miles at 11.2mph – reckon on a bit more in warm weather, or a bit less if you ask for extra power on the hills.
Economy is excellent, but disappointingly, the bike doesn't break any records on the higher settings, consuming 11.8Wh/mile on High, and 10.3Wh/mile on Medium (a shade more than the Gazelle which managed 9.9Wh/mile). On Low the Agattu hits a new low of 6.5Wh/mile, but as the rider is putting in two-thirds of the effort, this isn't a very meaningful record. All the same, these are pretty much state-of-the-art figures. In layman's terms, it will run all day on the energy Jeremy Clarkson consumes boiling an egg for breakfast.
Equipment & Charging
Charging is a touch slow. Importer 50 Cycles reckons the battery should be fully charged in four hours, but it actually takes between five and six hours. This misunderstanding probably arose because the handbook suggests the battery is full when all five charge lights are illuminated, but our test equipment showed that there was more than an hour to go at this point. As there's no other indication of a complete charge (the falling temperature of the charger gives a clue) it makes sense to leave the battery on a bit longer, but don't over-do it, because Panasonic says battery life may be compromised if it's left connected for more than 48 hours.
The charger is rather large more of a docking station really, so it's not readily portable – but a compact travel charger is expected in summer 2008. Bearing in mind Panasonic's troubles with UK-issue Lafree chargers, will all this new technology prove reliable? It's certainly a neater, lighter, more weather-proof battery/motor unit than the original one. We can't guarantee it will be reliable, but the signs are good, and a company like Panasonic has a lot to lose if it doesn't work.
Other equipment is excellent, and almost as classy as the Gazelle Easy Glider, but not quite.The Kalkhoff Agattu comes with an Abus wheel lock, pump, skirt guard, long-legged ESGE stand, Post Moderne sprung seat pillar and Verso sprung forks. These are rather good, giving a well-damped, but resilient ride. Cattle grids just disappear, as do small kerbs, although the big ones can give you quite a jolt through both the forks and the sprung seat pillar. The forks are adjustable,and on this very rare occasion the adjusters demonstrably do something, but there's little point in stiffening up the ride too much with an electric bike.
Unusually, for a bike equipped with Nexus hubs, the Agattu has V-brakes, also by Shimano and excellent: squeal-free, powerful, and progressive, but not as weather-resistant as the rather spongey Nexus roller brakes one expects on this sort of machine.
The lighting system is in the 9/10region: Busch & Muller Lumotec Senso Plus headlight and Selectra Standlicht at the rear. Both have a standlight function, which is not only a safety bonus, but extremely useful, the front light being strong enough to guide the bike into a dark garage or find a house number. Both work on a sensor system, which cuts in and out unobtrusively at dawn and dusk, but the hub dynamo absorbs so little energy, there seems little point in turning it off, in the winter at least. The road illumination is good, although not quite up to the standard of B&M's LED headlight. We also had an intermittent problem with the rear light, which always worked perfectly at home or in town, but would sometimes cut out on country roads…
The big chunky Continental CityRIDE tyres (42 x 622mm) inspire great confidence and despite being rated at only 65psi, they roll pretty well too,with a roll-down speed of 14.7mph. That's fast enough to give the bike a light, rideable feel, something very few electric bikes achieve.
Like all good European designs, the Kalkhoff comes in no fewer than five frame sizes: 45cm, 49cm, 53cm (our test bike) and 57cm for the step-thru, and 49cm, 53cm, 57cm and 61cm for the 'gents'. For former East German shot-putting ladies, a ludicrously large XXL version of the Wave will be available in a few months with a stronger 61cm frame.
Running costs depend very much on how you use the bike,varying between 8.7p/mile for gentle shopping trips to 10.2p/mile riding hard on High power. The difference, incidentally, is a matter of battery depreciation and range per charge. A spare battery costs £305 and we work on the basis of 350 charges in a lifetime (Panasonic claim 500 charges).
Conclusion
Transport decisions are not always logical. In a perfect world, everyone would do their shopping with a bike like this Kalkhoff and traffic congestion would melt away. It can be ridden day or night, summer or winter, wet or dry, tail wind or head wind, and it will always carry your groceries home. But relatively few people will buy an Agattu, which is a real shame, because if you haven't ridden a well-equipped power-assisted European roadster, you are missing a seriously top-draw experience.
And so to price.The 2008 Gazelle Easy Glider has better spec and the same motor and battery for around £1,600, whereas the Agattu is being introduced at £1,195, albeit rising to £1,250 in the spring. It may not be quite as classy as the Gazelle, but it's an excellent price for a competent European machine – similar to the most expensive Chinese electric bikes and cheaper than the Lafree in its final form. Not so long ago, you had to travel hundreds of miles just to see a brand like Gazelle or Kalkhoff, but both manufacturers are busy setting up dealer networks in the UK… Are we witnessing the much-prophesised roadster renaissance?
Kalkhoff Aggatu Wave Specifications
Price £1,195
Weight Bike 23.3kg Battery 2.5kg Total 25.8kg (57lbs)
Gears 7-spd Nexus hub
Gear Ratios 33″ – 80″
Battery Li-ion
Nominal Capacity 260Wh
Replacement Cost £305
Range 26.7-47.6 miles
Full Charge 6 hours
Running Costs 8.7-10.2p/mile
Manufacturer Derby Cycle Werke GmbH www.kalkhoff-bikes.de
UK distributor 50 Cycles tel 01509 266656 fiftycycles@50cycles.com
A to B 63 – Jan 2008