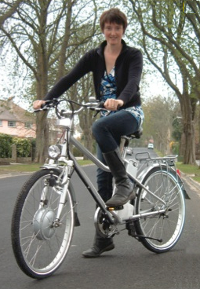 Back in the summer of 2003,a slightly odd-looking electric bike called the Ezee Forza landed on our doorstep. It was reasonably light,and some of the equipment was a bit dubious,but it came with everything a regular cyclist might need,plus a gutsy power-assist system that offered a decent range at an enjoyably nippy pace.The prototype Forza was a bit rough around the edges,but we liked it,and the production version (known as the Sprint) sold in droves. It wasn't the prettiest machine in the world,but it promised to get you up the hills and generally got you to work on time,even when something went wrong, which it occasionally did.
Four years later, Ezee has become a respectable brand,and the Sprint has been extensively revised,using that early experience.Loaded with extras,it now commands a price tag of £800-£900,but with the market for electric bikes expanding rapidly in the £500-£600 zone,Ezee has gone back to basics,introducing the Liv.This new bike is broadly the same as that early Forza:similar equipment,with a similar bare alloy frame,but without the 'unisex' 45cm step-thru (the Liv top tube is 67cm high – almost the same as the Torq). The bike was launched a few weeks ago at a distinctly eye-catching price of £545,complete with NiMH battery.
Things move fast in this business:following some dramatic increases in the price of NiMH batteries (reportedly due to a shortage of nickel),it has been decided that the Liv will sell for £595,equipped with the latest lithium-ion battery.So the bike still squeezes into that 'economy' banding,but apart from the tiddly little Powacycle Lynx,it seems to be the only bike under £1,000 to be fitted with a lithium-ion battery,and it's the biggest battery of its kind on the market.
On the road
So the Liv started life as a back to basics model,but has become a high-tech commuter.It still holds true to the Ezee philosophy of simple,practical everyday transport, but with superb spec where it counts.Equipment-wise,the bike comes with full mudguards, a dynamo lighting set (not the best,but it works well enough in dry weather),and – where other cheap brands are fitted with nasty cheap derailleur sets – a Nexus 3-speed hub gear. This light,simple hub is ideal for purpose – changes up or down are very slick,and the gear range (46″,62″ and 85″) is limited,but sufficient on an electric bike.
The DC motor is the same simple reliable unit fitted to the Low-tech Ezee Rider.It's not as efficient as a brushless motor,but it pulls cleanly and powerfully to 16mph,or even 18mph with a fresh battery.You can cover a lot of ground by spinning fast in that 85-inch top gear,and with reasonable assistance from the noisy,but willing little motor,the Liv will climb quite steep hills at a good speed.The result is an impressively fast bike,completing our 10-mile commuter course in 33 1 / 2 minutes.That's about the same as the Sprint,and second only to the Ezee Torq,a much more sophisticated (and expensive) machine.It just goes to show what you can do with three hub gears, sensible ratios and some modest power assistance.In hillier country,the bike does equally well,recording an average of 15.7mph with NiMH and 16.9mph with the Li-ion battery over our new 14-mile course.That's much faster than the other budget electric bikes,and a hefty three to four mph faster than the Giant Twist or Sparta Ion (see A to B 58 ), which cost nearly three times as much.Speed isn't everything,we hasten to add,but as with a car,it makes sense to have something in reserve.Sooner or later you'll be climbing a gradient into a headwind with a bad leg.
With only three gears,the maximum gradient is a bit limited,but we found 13% (1:8) easy enough, and climbed 17% (1:6) at a steady pace.Restarting on that sort of gradient is feasible,but with a 46-inch bottom gear,this obviously takes a bit of legwork. Maximum motor output is similar to the Sprint,at a shade under 600 watts,so there's plenty of oomph for most situations.
More for you money
If you're searching for a budget-priced,practical electric bike,it's the battery that counts, and the Liv offers no less than 370Wh of lithium-ion power – exactly the same battery fitted to its more expensive cousins.With the older NiMH battery,range in hilly country is 23 miles,but with the new battery we recorded a range of 27 miles,still averaging 16mph, despite plenty of hills and some town work.Remember,that's at quite a high speed – if you keep speed down,30+ miles should be well within its capabilities.
When the battery does conk out,the Liv is a pleasant bike to ride unassisted – not quite up to Lafree standards,but perfectly rideable.At 28.5kg,the Liv weighs the same as the Sprint,give or take a few grams.That's 4kg heavier than the new breed of lightweights like the Windsor,but 10kg lighter than most £600 electric bikes.And this is a solid machine, offering more range and a great deal more speed than most,particularly on hills.
Fuel consumption of 15Wh/mile is a little on the high side,but extremely good for an electric bike with this sort of performance. The charger is a quality fan-cooled device (two speed,no less!),and quite rapid,reaching half capacity in two hours and full in just over five.A few words of warning,as we're still slightly suspicious of Li-ion technology.Our battery refused to charge at first,and although it settled down quickly enough,it would still occasionally turn off early.Switch the mains power off and back on,and it runs to full charge,but if you're commuting some distance,we'd suggest doing this as a matter of course before going to bed…With Li-ion,both the battery and charger contain a mass of complex electronics,and one theory is that 'spikes' in the mains supply cause the charger to 'trip-out'.On the other hand,we're not hearing negative reports from consumers,so they must be working well enough out in the field.Running costs are 7.1p/mile.That's quite high for a budget bike (replacement batteries cost £250),but as cheap as you'll see for a performance machine with a Li-ion battery.
Conclusion
At £595,the Ezee Liv has a lot of competition,but most of these machines (and quite a few costing £700 or more) can be dismissed.Against such single-speed,overweight monsters as the Powabyke Shopper,Sakura Cruiser and even more horrible things,the Ezee Liv is light years ahead.The only real competition comes from the Giant Suede and the new LPX versions of the Powacycle Windsor and Salisbury,but (apart from arguably looking nicer and providing a step-thru frame option) their performance and equipment just doesn't come into the same ballpark as the Liv. Things may change,but at the moment,this is the best all-round machine we have seen:it offers astonishing value,and with saddle height of 86cm-101cm,it fits almost anyone.If you want an electric bike on a budget,don't hesitate – the Liv is a great buy.
Ezee Liv Specifications
Ezee Liv £595 . Weight Bicycle 24.1kg Battery 4.4kg Total 28.5kg (63lbs) . Gears 3-spd Nexus hub . Gear Ratios 46″, 62″, 85″ . Battery Li-ion . Nominal Capacity 370Wh Max Range 27 miles . Full Charge 5hrs 15mins . Consumption 15Wh/mile inc charger losses Running Costs 7.1p/mile . Manufacturer Ezee Kinetic Co www.ezeebike.com UK Distributor 50Cycles tel 01509 266656 fiftycycles@50cycles.com
A to B 59 – April 2007