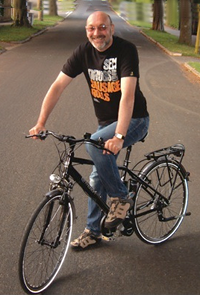 The E-motion is made by B H Bikes in Spain, or more accurately Bicicletas de Alava S.A. Now, we'd never heard of B H, which might be because they've yet to make much of a mark in the UK, and they specialise in racy machines.We're talking skin-tight Lycra and shaven legs here. Dead serious.
However, the company does also produce a few city and commuter bikes, with names like Cambridge and London, and has recently adapted a few of its frames to accept the Panasonic power-assist system, now fitted to city bikes in almost every European country except, er, the UK.Well, we did have a word with Raleigh at last year's London show, but no doubt they know best.
Once you've seen one power-assisted European city bike, you've seen them all, or so you might think, but with B H being something of a sporty brand, these are a bit different. As far as we know, these are the first mass-produced crank-drive machines to use a conventional derailleur, and as well as the step-thru and top-tube models one might expect, there's also an aluminium/carbon fibre sports job weighing a claimed 16.8kg.
You might, at this moment, be thinking that power-assist on a lightweight sports bike would be at best a bit of a contradiction and at worst a travesty, act of vandalism, appalling desecration of this temple to human endurance, and so forth, depending on your strength of feeling. It does seem a bit odd, but there are several of reasons why you might want a bike like this.
The bikes that work best with power-assistance are generally the ones that work best, full stop. So if you want to go a long way at a decent speed, you're much better off starting with a good European racing bike than a crummy Far Eastern excuse for a bicycle. And then, you might just want to show off, striding into work in your skin-tight Lycra with freshly waxed legs, but absolutely no sweat, demonstrating your remarkable virility.We make no moral judgements on how one might use the bike, merely that it is available for those who want such a thing.
If this bike was fitted with a hub motor, we would also say that the power was merely an add-on for hills, giving assistance up to 15mph, and allowing you to sail off at racing speed on the flat or – more pessimistically – the downhill bits. But the E-motion Sport has a crank drive, so the pedals are geared low enough not to exceed that speed by very much. They've 'detuned' it thus by fitting a relatively large 13-tooth top gear sprocket, although anyone with a modest technical knowledge will be to fit an 11-tooth sprocket in less than 10 minutes, making the bike much nicer and more practical to ride, yet still barely exceeding the increasingly ludicrous 15mph speed limit.
Obviously you all want to hear about this carbon fibre job, so perversely we're testing one of the sensible commuter bikes, because we do so love practical machines. The range starts with the City 650 in either step-thru or top tube options, both with 7-speed derailleur and a relatively small 208Wh battery. Next up is the similar City 700 with 8-speed derailleur, followed by the 700 Deluxe, with 8-speed Shimano Sora gears, a better saddle, improved gear shifters, wheel lock, suspension seatpost, alloy pedals, front suspension lock-out, skirtguard on the step-thru and other tiddly differences. The important one is a larger 260Wh battery (as fitted to the Kalkhoff et al).This larger battery is also available as a £65 option on the cheaper bikes, and we'd say 'buy it'. Our general advice is always to choose a battery capable of twice your normal daily range if possible. A big battery will have an easier life and last longer, and give you a little something in reserve for that deviation to Tescos, longer holiday trips and so on.
All the 'sensible' bikes in the range offer battery-powered lights of various kinds, a rack, and full mudguards, but there's also a broadly similar 'Cross' version (you will be when it rains) bereft of all the useful bits, but with nicer gears.At the top end, the Sport models have flat-spoke wheels, Shimano Tiagra gears and carbon forks, plus drop handlebars on the Deluxe variant, which might be a first on an electric bike.All variants sold in the UK come with a Mach 1 speedometer.This is a basic device, without Ride Time or Average Speed, but fitting it is a really nice touch that we'd like to see repeated elsewhere.
Prices are comparatively modest.The 650 or Cross cost £1,350, which is only a shade more than the basic Panasonicdrive 3-speed Monark Eco, or somewhat inferior Giant Express or Ezee Torq.The 700 costs £1,400, and the 700 Deluxe £1,550, undercutting the Kalkhoff Agattu, mid-range Giant models, Kettler, Gepida and – most importantly of all – the Kalkhoff Pro-Connect.The Sport comes in at £1,650, or £1,800, which sounds a lot, but it's some £500-£600 cheaper than the similar (but allegedly unrestricted) Kalkhoff Pro-Connect. Is this all too good to be true? We've tested the £1,550 City 700 Deluxe to find out.
On the Road
The 700 Deluxe is the first electric bike we've tested for a while to attract favourable comment from friends, relatives and passers by.We often hear phrases like 'How useful', 'Goodness that's practical', or 'How much?', but the E-motion had everyone drooling. Like most of the 2009 bikes, it comes in either white or black (fortunately ours was the latter) and it looks and feels like a normal, if slightly heavy, sporty hybrid with some unusual echoes of the 1930s in the handlebars, and frame graphics that wouldn't look out of place on a BMX.
This model has a suspended seat post, which feels slightly at odds with the sporty nature, and front suspension forks, but these can be locked out on the right sort of road surface, generally sharpening things up. For our money – unless the daily commute involved tracks or city potholes – we'd go for plain forks and a lighter bike, and keep a few quid safe in the bank (well, maybe not).The suspension is the main reason that the E-motion 700 Deluxe weighs 23.3kg, which is a respectable weight, but 2.3kg more than the rigid, but otherwise very similar, Kalkhoff Pro-connect. A definite disadvantage.
Power-assist is the now widely fitted Panasonic crank-drive, but in this case, almost uniquely, power gets to the back wheel via a conventional derailleur rather than hub gears.We were a bit concerned about this at first, but there's no technical reason why a derailleur shouldn't be able to handle the extra torque, which is no greater than a serious athlete or a spirited couple on a tandem might produce.All the same, a little bit of extra care is needed when shifting, especially changing up, or at low speed.With High power selected, the change is smoother if you relax pedal pressure briefly when changing gear. Because the motor takes a fraction of a second to disengage, there is still plenty of power there to effect the change, but without any nasty noises, which can happen if you're standing on the pedals. In the lower settings, or with power-assist turned off, change gear as normal.
Gearing is everything with these crank-drive bikes. As standard, the E-motion bikes come with a 14-28 tooth gear cassette, giving an overall gear range of approximately 41″ 81″ (or just 38″ – 76″ with the 650, which has smaller 26-inch wheels).Without power, 41″ would be ludicrously high for hill-climbing, but power-assist makes this sort of gear viable, if a bit marginal if you live somewhere hilly.Top speed is a shade over 15mph, and that's all you're allowed.
Range is certainly something to write home about.As a rule, these Panasonic-driven bikes manage somewhere between 25 and 30 miles depending on gearing, rolling resistance, weight, and so on. Following the same hilly course we ride with all the electric bikes, the E-motion achieved an unprecedented 35.6 miles at an average of 14.2mph in High. In the default Medium setting, the bike ran for 38.2 miles at 13.6mph, not the fastest ride, but a considerable mileage. Both those results are a shade slower than its nearest rival, the Kalkhoff Pro-Connect, but four to five miles greater range.With this standard 41″ bottom gear, the bike restarted on a 1:6 hill, but only just, and a weak rider might well have been defeated.The 81″ top gear is high enough to give assistance up to 15mph, but the general feel is a bit uninspiring. On the positive side, the range in the Low power setting will be quite substantial – certainly in excess of 50 miles.
Our bike also came with an alternative set of cogs, although the distributors are at pains to point out that they wouldn't dream of suggesting this as a road-going alternative, and what the customer does with it is entirely up to them.An 11-30 tooth cassette hardly sets the world alight, but it widens the E-motion's gear range to 38″-104″, improving the bike across the board.Top assisted speed on the flat increases to 17mph, but as we've made clear on numerous occasions, these are not powerful motors, and typical assisted speed will be closer to 15mph, so the illegality issue is a purely technical one.
With these alternative cogs, the bike feels much more capable, with a reserve for climbing hills, and a tall enough top gear to pedal in comfort up to about 22mph when conditions allow. In High, range is cut to 28.2 miles, but speed bounces up to 15.3mph, so in this trim, the E-motion is faster than the Kalkhoff, but with slightly inferior range. Swings and roundabouts, unfortunately. In the Medium setting, range is 31.7 miles at 14.1mph, and perhaps a little over 40 miles in Low, which isn't a huge scary penalty. With the lower first gear, restarting on the 1:6 hill is fairly easy in High, but in the lower power settings, you really need that first gear to get up the hills.
On our standard 10mile commuter run, the regeared E-motion made the fastest run of any crank-drive, with a speed of 32 minutes, some two minutes ahead of the Gepida and Kalkhoff ProConnect. Our advice is definitely to go for the wider gear range.The higher speed helps the bike tackle the ups in those annoying short, sharp ups and downs, and if you want economy you can still get it by using a lower power setting, or turning the power off altogether in top gear.
Power consumption is 8.18.7Wh/mile with the 14-28 tooth sprockets, or 9.8-11Wh/mile with the 1130 tooth which is definitely state-of-the-art, and jolly good, considering the high average speed. Interestingly, we were expecting to see a clear advantage over the hub-geared Kalkhoff bikes, but this wasn't really the case.The E-motion is faster and more economical than the slightly frumpy Agattu, but more or less on a par with the sportier Pro-Connect.As derailleur gears are measurably a shade more efficient than hub gears, we can only assume that the Pro-Connect's excellent Continental Contact tyres offer slightly lower rolling resistance than the Schwalbe Energizers fitted to the E-motion. In any event, the difference amounts to no more than a percentage point or two. Incidentally, the Schwalbes punctured twice within a few miles after taking whacking great thorns in the sidewall, whereas the Continentals didn't puncture at all for the period we had the Pro-Connect. That might mean everything or nothing.
Charging and Running Costs
Charging is exactly the same as for any other Panasonic-powered machine.A full charge takes around 51 /2 hours, and the charger is a bit bulky (although much smaller than the Yamaha device). Running costs are kept low by the two-year battery guarantee and the high mileage per charge, but hindered by the £395 battery replacement cost, and we won't see that come down until the pound perks up.We estimate running costs of 10.8p on the default Medium power setting, rising to 11.1p in High.As ever, our figures rather pessimistically assume the battery will need replacing the moment the warranty expires.
Incidentally, all the Panasonic batteries are interchangeable, so if you own any of these bikes, feel free to shop around for the best battery deal.The other money-saving option is the smaller battery fitted to the cheaper E-motion variants.This 208Wh battery costs £350 to replace, but it offers at least 20% less range than the big 'un, and may need replacing more often, so the relatively small price differential suggests that the smaller battery would be a false economy, unless you make short trips at low speed.
Conclusion
Unusually, this is quite an easy one to sum up.The E-motion has lots of potential competitors, but the primary one is the Kalkhoff.The E-motion has a clear advantage in terms of price, and the only other real question is whether you prefer hub gears or derailleurs.The Kalkhof's hub gears are much the best option in town, and changing the overall ratios is easy and cheap by swapping a single rear sprocket.You can make big changes too – very low gears for exceptionally hilly areas, or very high ones for the Norfolk polders.
The E-motion's derailleur gears provide slightly closer ratios and an arguable efficiency boost, but they can be a nuisance in traffic, and although the sprockets can be mixed-andmatched to produce a custom gear set, the upper and lower limits are strictly fixed. On a normal bike the chainring (or rings) could be swapped, but with the Panasonic crank-drive, this component is not changeable, so your options are constricted by the biggest and smallest rear cogs offered by Shimano: a big 34-tooth or thereabouts to get you up steep hills, and a small 11-tooth for easy cruising in top. So in very hilly, or very flat areas, the Emotion is not quite as flexible, and probably isn't suitable for hills in excess of 1:6, unless you are quite a spirited rider, in which case it will be fine.
Taking all this into account, it really has be a draw. Competition is a good thing, and the Kalkhoff now has a worthy adversary.
E-motion 700 Deluxe Specifications
E-motion 700 Deluxe £1,550 . Weight Bike 20.9kg Battery 2.4kg Total 23.3kg (51lbs) Gears 8-speed Shimano derailleur . Gear Ratios (Standard) 41″ – 81″ (Alternative) 38″ – 104″ Battery Lithium-Ion . Nominal Capacity 270Watt/hours . Replacement Cost £395 Range (Standard Gearing) 38 miles . Full Charge 51/2 Hours . Overall Consumption 8.1-11Wh/mile Overall Running Costs 10.8-11.1p/mile . UK Importer OnBike www.onbike.co.uk tel 01299 251514 info@onbike.co.uk
A to B 72 – July 2009