The basic message is that long distance travel with a bicycle by train in France is possible, despite what you might have heard about high speed trains like the TGV, but choice is limited and you need to book early, especially in summer. Regional services that can take accompanied bicycles are sparse but good. The French Railways web site can be found at www.voyages-sncf.com.
Railway lines in France are less dense than in Germany and there are fewer trains on the lines. Out in the sticks, two trains a day appears to be the norm, but services to the regional centres are generally adequate. The SNCF (Société Nationale des Chemins de fer Français or French National Railway Corporation) incorporates TGV, France's high-speed rail network and the ferry company SeaFrance. Its functions include operation of trains for passengers and freight, and maintenance and signalling of rail infrastructure owned by Réseau Ferré de France (RFF).
This is the very French solution to European directives formulated to impose competition on national and pan-European rail networks. We got a botched privatisation, and the French kept the whole SNCF edifice intact by making it look privatized. Who is to say they were wrong? Recent work by the Office of the Rail Regulator suggests that National Rail is 34-40% less efficient than the nationalised European norm, and as we all know, our fares are the most expensive in Europe too.
SNCF services are divided into two groups: Grandes Lignes (main line) and TER (regional services). Although nominally separate, the two groups work together and in practice there is no difference between them. If you use the SNCF home page this will also show TER services where appropriate. Not all, but some of the main line services will take bicycles, including some of the high speed TGVs, whereas the vast majority of regional trains do. You can find out which mainline trains carry bikes by checking timetables on www.voyages-sncf.com and seeing which trains display a bicycle logo. If there is room on your chosen train you can turn up, pop your bike on the train and away you go. You can however reserve bike places on long distance trains before travelling, and it is highly advisable. The local TER trains do not accept reservations and bicycle transport is free. Folders are welcome everywhere, provided they do not exceed 120cm x 90cm x 60cm.
Harking back to a time when we exported technology to France rather than the other way round, French trains drive on the left, except in German-influenced Alsace and parts of Lorraine. Trams and underground railways run on the right because of their origins as road transport.
Long distance express trains
TGV Double Decker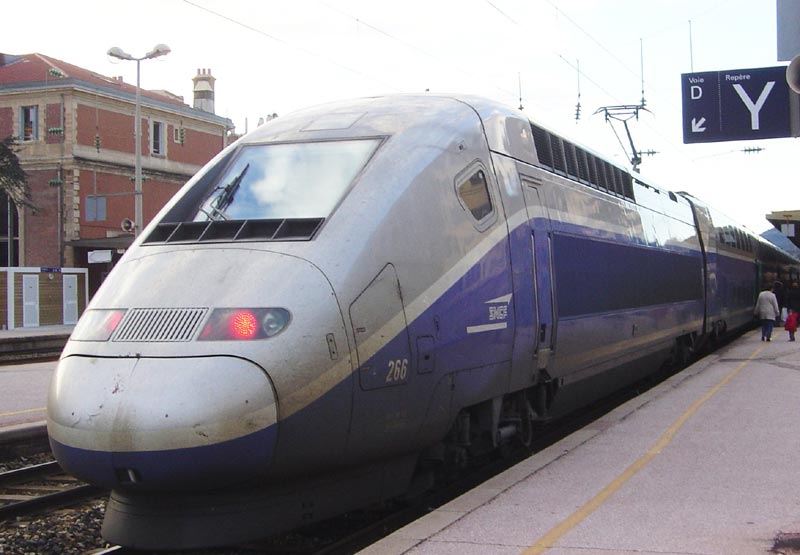 TGV train inside Gare Montparnasse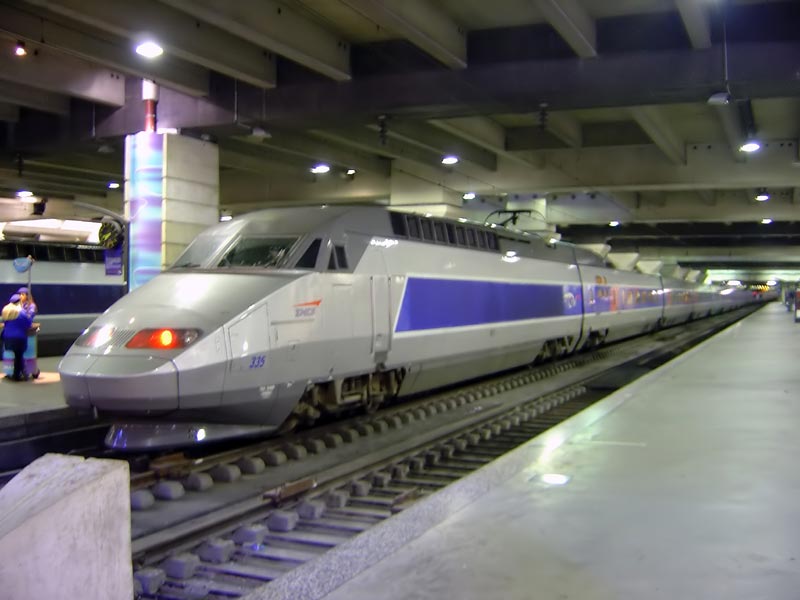 Corail Ventadour
By Tuyra (GFDL), via Wikimedia Commons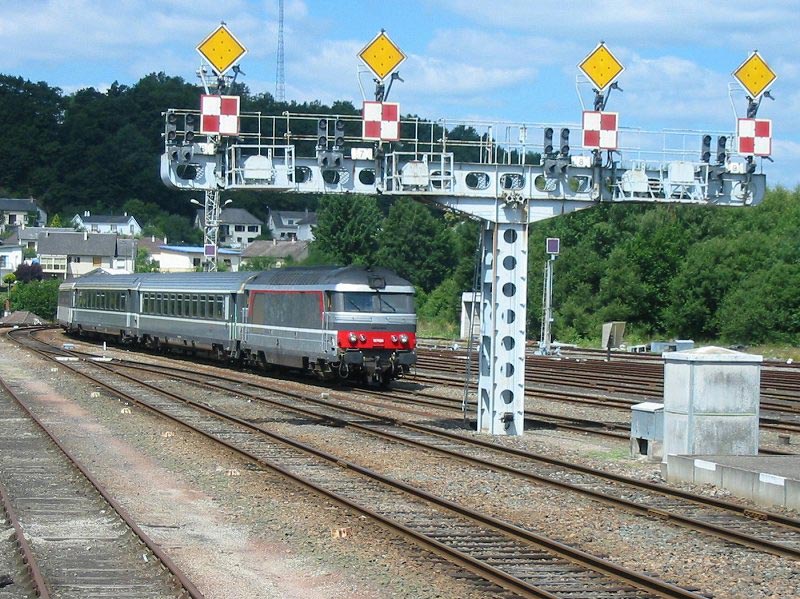 TGV
Train a Grande Vitesse (TGV)
Literally 'high speed train', the TGVs are very fast and comfortable train sets. Some of the newer examples of the class are double-deckers. Up to four bicycles are carried on certain TGV services: Atlantique (except Duplex trains), part of TGV Nord, and part of TGV Est.
A few words of warning though: tandems and recumbents (these are almost unknown in France),  are only officially carried in trains with guards vans, which are now rare. They do seem to be tolerated elsewhere, although space can be tight.
When travelling on bike-carrying TGVs you will need to reserve bike places. Not only are there typically only four places available on each train, but the bikes block four part-time seats that can be used by travellers without reserved tickets, of whom there can be quite a few. They are unlikely to give up their seats unless you can wave a reservation under their noses.
There is another class of TGV, the iDTGV which can only be booked online and offers cheaper fares than the conventional TGV trains. It appears to be aimed at the student market, but there are no age limits. This offers three types of accommodation: iDZap, iDZen and iDNight in the usual two classes: first and second class. iDZap is intended as an area where you get to know your fellow passengers. Probably a good place to pick up French chat up lines. iDZen is the public library area. Nobody speaks and you can read Candide in peace. iDNight is an overnight or a late in the day train and appears to be a moving disco and bar running more slowly than a conventional TGV. It sounds like a vision of Hell. However these trains cost about half the price of their conventional equivalents. There is, however, a major snag for the cyclist. These trains do not take bicycles unless they are bagged in a similar manner to the Eurostar trains, and you can only take two pieces of luggage on board, which sounds like a recipe for inventive packing.
Corail: Ventadour, Teoz, Intercité
These are conventional trains hauled by a locomotive. The trains run not only between major centres, but also important regional settlements. They are slightly slower than the TGVs, but fares are cheaper. They have odd additional names like Teoz which indicate different operating divisions. Corail Teoz run trains to southern France. Corail Intercité run interregional trains across France. ?
Night Trains: Corail Lunéa
These are conventional trains hauled by a locomotive, running between major centres and important regional settlements. They are slightly slower than the TGVs, but fares are cheaper. They have odd additional names like Teoz which indicate different operating divisions. Corail Teoz runs trains to southern France. Corail Intercité run interregional trains across France.
Night Trains: Corail Lunéa
These are couchette rather than sleeping car trains, but on some trains one compartment has been modified to act as a bike garage.
Regional Trains – Transport Express Régional (TER)
DB Regio meets TER in Wissembourg
© Bergstrasse Bike Books
SNCF operates local railways and buses under the name TER. These services are heavily subsidised by the French taxpayer, with 72% of the cost being borne by the State and the regional councils on average, so travellers only pay about a third of the full cost of provision. TER trains consist of single or multiple-unit diesel, electric or dual-mode rail cars, as well as some Corail rolling stock that has been 'cascaded' from intercity routes.
Tickets
Validate your ticket at the yellow Composteur
These are the typical costs of travelling the 585km between Paris and Toulouse booked a month in advance. Trains at uncivilised times will be cheaper and trains at popular times more expensive.
Train
Normal Ticket (€)
PRO 2NDE
Saver Ticket(€)
Loiser Reducsed Fare
Prem* Super
Saver Ticket (€)
Changes
Time (h)
TGV
92-136
55-122
38
0-1
<6
iDTGV
35
–
24
0
<6
Corail
60
79
15
0
<7
Regional
3 or 4
12-21
*Prems: Are non exchangeable non refundable but very economical tickets for a specific train. There is a quota and when they are sold out there are no more.
**Travelling by regional train does not appear to be an option, at least using the two SNCF websites:
www.voyages-sncf does not list journeys using TER trains only.
The regional train site http://www.ter-sncf.com/ only allows searching in one region or départment.
www.bahn.de, the German uber-railway website does yield suggested trains, but without prices and uses German train classifications (RE) to describe them. Do you really want to travel for 21 hours to save a few Euro?
Buying a ticket for trains in France
There are a number of possibilities in Britain, and you can now book bike tickets online (see 'Bike Tickets' below).
1. By Phone – Rail Europe: 08448 484 064 Mon-Fri – 09:00-19:00 Saturday – 09:00-18:00
2. In Person – Rail Europe Travel Centre, British Columbia House, 1 Regent Street (Lower) London SW1Y 4XT
3. Online at www.raileurope.co.uk or https://www.capitainetrain.com
4. Online at www.tgv-europe.com with home delivery by Post
You can pick up tickets at a French railway station or print them out at home. The British SNCF site doesn't seem to offer a simple way of booking a bike ticket. Rail Europe is probably best, because if anything goes wrong you can talk to a real person in English whereas there does not appear to be a telephone contact number for TGV-Europe.
Railcards
SNCF offers several rail cards: For the old, the young, the very young, families and normal people. These only really pay if you live in France or are intending to travel extensively in France.
Bicycle Tickets
Your bicycle will cost ten Euros on long distance trains within France, but you MUST book early to get space on some Intercite and all TGV trains. A trailer probably costs the same amount, but this could be awkward in a TGV where there is limited bike space. Cycling for the French either means road bikes with violently coloured Lycra à la Tour de France or rusty pre-WWI ladies' bikes used by farm workers in the country. Neither of these ever pull trailers. In our experience if you can show willing and partially dismantle the trailer it does help. Bicycle transport on local TER trains is free.
International bicycle tickets cost 10 – 15 Euros and include a reservation for a bicycle. These are valid from your starting station to your destination. Recumbents (even short wheelbase recumbents) and tandems seem to cost double, even though they are technically banned from most trains.
To arrange bike transport on Intercite or TGV trains in France, it is now possible to book both your seat reservation and bike reservation at the same time by using the Capitaine Train online booking service: full details in English at https://blog.capitainetrain.com/6555-take-bike-on-train-france
If you've already made a seat booking online, the bicycle can be booked with Rail Europe on 0844 848 5 848. The lines are open Monday to Friday, 09:00-19:00 and Saturdays 09:00-18:00.
Websites: www.voyages-sncf.com, www.ter-sncf.com
A very stylish site, but awkward to use. To find out whether a train will take bicycles you need to either check the timetable function (Horaires) and then go to the booking part of the site, having re-entered your travel plan to order your tickets, or click on a button below each train. But since you can't book bike tickets online, it is probably better to use the website to decide when and how you want to travel and then get on the phone.
Finding a train to take your bicycle can be difficult, leading some travellers to suggest using the German Railway website www.bahn.co.uk to find trains in France with bike spaces. The German Railways website has a button marked 'Transport of bicycle required', so you can filter out all the trains that do not transport bikes beforehand, but any database is only as good as the data input. Unfortunately although www.bahn.co.uk recognises that the TGVs running from Paris Est to Germany and Switzerland can carry bikes, all the other TGVs are assumed not to carry bikes, although some of them do, according to SNCF. In addition there is no mention at the time of writing that at least one extremely useful couchette train from Paris to Toulouse takes bicycles. We suggest sticking with www.voyages-sncf.com for your preparations, although this situation could change.
The core French version of the website gives the option of finding the best ticket price over a period, something the English version does not. You can cheat by using the French pages and letting Google Translator change the language to something more understandable.
Once you know the region or départment in which you'll be commencing your journey, you can use this site to find routes and timetables. Tickets are bought from the machines on the stations or at the ticket window. It is in French, but again, Google Translator works well.
Practical Hints
If catching a train from a station with more than two platforms, the departure platform is announced only ten minutes before the train arrives. In Paris Est for example the departure platform of the TGV/ICE to Frankfurt is announced ten minutes before departure, causing an almighty stampede. The same is true in Germanically drilled Strasbourg, even though the train has been waiting empty for half an hour or so (If you have to wait in Strasbourg in winter use the northern concourse. It's a lot warmer and there are more seats.). Way down south in Nice things are fortunately more casual and the departure platform of the sleeper trains is made public a good hour before departure.
You may have to hang (accrocher) your bikes on hooks anchored in the compartment ceiling. Unless you are built like Atlas, remove the panniers first. Avoid trying to lift the bikes up once the train is moving and take them down (deccrocher) in good time before your destination.
When you are on the way to the platform to catch your train, you will see small yellow pillars labelled 'Compostage' with a slit. Stick your ticket/s for the journey as purchased from ticket machines or the ticket office in this slit. You will hear the machine whine and print the date on your ticket/s. They are then valid for that journey but cannot be used again. If you do not do this you could be fined 50 or so Euro by the conductor on the train.
Favourite Diversions
We normally cross France in the dark to or from Paris and then take a night train south, though we did enjoy running into Nice along the Mediterranean coast early on a winter morning. For more options, visit Leo Woodland's guide to cycling in France which includes a good description of the perils and pleasures of taking le train avec ton vélo.