DIGITAL BACK NUMBERS

A to B 117 August 2017

Brompton Electric – first review of Brompton's electric bike
Nano-Brompton – update on the latest model
Crash! – when the wheels stop turning
Book Review – Very Heath Robinson
Great Folder Journeys – return to Poole Harbour, Swanage to Wareham Railway
99p PDF Download

---
A to B 116 May 2017

Velogical Brompton – Brompton dynamo conversion
Greenspeed GT20 – recumbent trike
Sinclair Iris – update on progress
Steve Parry – legendary cycle engineer
99p PDF Download
---
A to B 115 February 2017

R.I.P. Velovision Magazine
Solar Edge – solar panel power optimiser
Solar Paths – energy from cycle paths
Pendix Brompton – electric bike kit
Velospeeder Brompton – electric bike kit
Velogical Rim Generator – bicycle dynamo
99p PDF Download

---
A to B 114 November 2016

Book Review – Ordnance Survey Road Maps
Book Review – Bicycle to Superbike
Perpetual Motion? Friction Drives
Cambridge Guided Busway – has it worked?
Boston Park & Pedal – cycle commuting in Connecticut
99p PDF Download

---
A to B 113 August 2016

Inside Brompton-Fletcher – new British titanium factory
Port Designs GO – LED bag
Book Review – Cyclist's Highway Code
Velomobiles
Travelling in Japan – part two
99p PDF Download

---
A to B 112 May 2016

Nano-Brompton Pedelec Conversion
Brompton – front wicker basket
Mechanical Doping – has it really happened in sport?
Travelling in Japan – part one
99p PDF Download

---
A to B 111 February 2016

The Borders Railway – new Scottish railway infrastructure
Folding Bikes – The Hummingbird
Winter Commuting – cycling in Montreal
Rural Bus Cuts – a last ride on Dorset's rural buses
Hiking in Switzerland
Book Review – Home is Elsewhere, Hanz Stucke
99p PDF Download

---
A to B 110 December 2015

Great Folder Journeys – the Isle of Wight
Paper versus Digital – a look at the environmental balance-sheet
BMW i3 – electric car
LED Lightbulbs – cheap LED 'corn' lights
99p PDF Download

---
A to B 109 August 2015

Olaf Business – wheeled suitcase scooter
Micro Hydro
Lux & Lumens – understanding light output
Tannus Solid Brompton Tyres
Vivarail D-train – new commuter trains from London Tube stock
99p PDF Download

---
A to B 108 June 2015

Kelly Kettle – camp-cooking accessory
Storing Solar Energy
Micro Black & Suspension – 150mm adult scooters
Velogical Rim Generator – bicycle dynamo
HP Velotechnic Scorpion+ – recumbent trike
500-watt Slow Kettle – solar panel power optimiser
99p PDF Download

---
A to B 107 April 2015

Folding Bikes Over £500
DVD Review – Bicycle, a Great British Movement
iBoost – solar panel power optimiser
99p PDF Download
---
A to B 106 February 2015

Folding Bikes Under £500
Cyclotricity Stealth 1,000 watt – Speed eBike
Book Review – Bicycle Design
99p PDF Download
---
A to B 105 December 2014

Split Tickets – new rail fare websites
Heinzmann Atlas eMB – electric bike
Hangload Bag Carriers
Concorde – iconic plane history
99p PDF Download

---
A to B 104 October 2014

Radnall/Cresswell Micro – folding bike history
Electric Bikes Under £1,300
Bennerley Viaduct – history of an iconic railway structure
99p PDF Download
---
A to B 103 August 2014

Foxhunter – bicycle cargo trailer
Burley Travoy Urban – bicycle trailer
Samso – energy island
2014 Brompton World Championships
99p PDF Download
---
A to B 102 June 2014

Skirtweights – keep your skirt under control
Book Review – Bicycle Design
Gazelle Chamonix Pure – classic Dutch roadster
Leggit Overboots
Daisywheel Cape`
99p PDF Download

---
A to B 101 April 2014

Kalkhoff Pro Connect
Kalkhoff S11 – Speed Pedelec
Juicy Bikes Classic Grande
Mojo Crank Drive
Mac Allister 36-volt Batteries
Infrastructure – getting Bristol moving
99p PDF Download

---
A to B 100 February 2014
Kia Rio 1.1 – the 100mpg car?
Honda Vision 110 – the 100mph motorcycle?
Great Ideas – Hydrogen & Hot Air
Velo Cargo – child carrier
Book Review – Cycling Science
99p PDF Download

---
SPECIAL OFFER! A to B magazine digital back-number set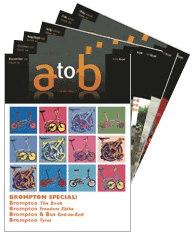 A to B has been published since 1997 and now runs to well over 100 issues. Not all have been digitised, but we're gradually working backwards, and we now have a digital archive of 40 issues. In theory we can send these over the internet, but our server isn't up to packages of almost 200Mb, so we're supplying them on a memory stick. Not a very exciting inducement, but you get to keep it! The price – including postage worldwide – is a modest £28.00, or 70p per issue, a 30% discount on the digital price.

---
Very early magazines…
Most of the contents of A to B issues 31-49 are now available FREE here.
---
PAPER BACK NUMBERS
The Folder magazine was published from August 1993 to July 1997.
A to B magazine was published from August 1997.
---
Some articles are available free on our Free Downloads page
---
Searching for a specific item?
You should be able to find it in our Excel- and PDF- based back number indexes: